Site update



Now you too can help us in composing the monthly newsletter. As an experiment we have initiated a scratchpad wiki where you can add/delete/edit any information you like. Just click the "EDIT" button on the top of the wiki page and add/edit/delete the information you like. This is a new wiki concept. Allowing everyday users to create and edit a page in a website is exciting in that it encourages democratic use of the Web and promotes content composition by nontechnical users. This is an experiment A scratchpad. Please let us know your feedback

http://scratchpad.wikia.com/wiki/Ipc-e-newsletter

We have introduced a couple of more pages on our website.

The Powder Coating Suppliers page. (FREE OFFER)
Almost all the powder manufacturers have a dealer network present in most of he major cities. This is the link which connects the powder user to the powder manufacturer. We invite all the powder dealers to promote there business through our new page. As an introductory promotion of this page we offer a FREE listing on the powder coating suppliers for one year

The Touchup Paints page
During production, often there are problems with the finishes of your products like nicks, scratches, or blemishes. With the aerosol touch up spray paints, these problems can be resolved fast and efficiently. Aerosol paint (spray paint) Paint in a sealed pressurized container that is released in a fine spray mist when depressing a valve button located on the top of the can. When applied correctly, aerosol paint leaves a smooth, evenly coated surface, unlike many rolled or brushed paints. Standard sized cans are portable, inexpensive and easy to store. Aerosol primer can be applied directly to bare metal and many plastics. We invite manufacturers of these touch up paints to add there details to this new page.

Please visit www.ipconweb.com/listing.htm for other promotion options


Infomercial from Mitsuba Systems

Automatic Powder Coating Package





Automatic Powder Coating Package-

In the new world of hyper competition automation is your competitive advantage. Powder coaters across the world are reaping the benefit of Mitsubas automatic powder coating package.
Mitsuba's experience having set up hundred's of automatic plant will help you reduce your labour charges and step up productivity. Automation will also ensure consistent coating quality. With the Patented Infiniti Technology (U.S. Patent No. 5678770) rest assured of the longevity of the gun.

The Mitsuba Automatic System consists of:
Automatic Guns.
Electromechanical Reciprocators
Spray Booth with Recovery
Powder Management System to Recycle Over-Sprayed Powder and mix with fresh Powder in Desired Proportion.
Magic Eye Powder optimization hardware.

Automatic guns are mounted on Electro Mechanical Reciprocators. These have variable stroke and speed to ensure enhanced flexibility to coat a wide variety of products.

The reciprocator is electrically driven via an AC geared motor giving a gentle and distinct motion. The advanced control system of the reciprocator is designed to control reciprocating speed, stroke length & multi – speed operations, thus ensuring the best possible coating results. Each reciprocator can accommodate up to 8 automatic guns and can be used where high line speeds are employed.

The Magic Eye part sensing systems will automatically maintain part to gun distance. That means if you coating a box, then gun, which is mounted on reciprocator, will move backward. And if flat sheet is coated after box, gun, which is mounted on reciprocator, will automatically move forward to maintain desired gun to part distance. It will smartly select optimum number of guns required to be keep on. It will automatically switch off the gun when there is no part in front of the guns. This will reduce over spray of powder.

For higher productivity and a relaxed state of mind use Mitsuba powder optimization hardware with Automatic powder coating package.

Follow the link to view the video of Mitsuba Automatic powder coating plant in operation http://www.youtube.com/watch?v=2aIW9ZbSJlw


To know more about Mitsuba products please visit www.powdergun.com or

Contact us at:
Mitsuba Systems (India) Pvt Ltd,
34/H, Laxmi Indl Estate,
New Link Road, Andheri (W),
Mumbai – 400 053.
Tel : 022-2631 8633 /2633 4735/66924151/66924154
Fax-022-66924154
Email : mitsuba@vsnl.com
Infomercial from Vijay Enterprises Pvt. Ltd

Vijay Enterprises Pvt. Ltd.


Vijay Enterprises is a leading manufacture of powder coating materials (PCM) in India. VIJAY COAT today stands as a Reliable source of High Quality and Durable Powder Coating materials at very reasonable prices. Vijay's PCM find extensive application for industrial and other demanding applications. Vijay enterprises was incorporated in 1995 with a view to supplying quality PCMs to Indian industry. Vijay's manufacturing set up is equipped with best machines from M/s Buss AG Switzerland who are world's largest manufacturer of Powder Coating Machines. Vijay has now established itself and earned a name for its quality supplies and prompt delivery at very economic prices. VIJAY has multi-locational production facilities near Ahmedabad in western India and at Silvassa in the U T of Dadra & Nagar Haveli, 200 Kms off Mumbai. This makes it a competitive source of PCMs to all customers.

Vijay Enterprises Pvt. Ltd.
Admin. Office :
103, Gita Bhavan, 1st Floor, Opp. Vijay Transport,
Narol Char Rasta, AHMEDABAD 382 405.
GUJARAT. INDIA.
Telephone: +91-79-2532 9057, 25329374,Fax: +91-79-2535 9481
Email: jayesh@icenet.net
web: vijay-powdercoat.com
Job Opportunities
FREE
Often we receive emails with no contents but a resume word document attachment.
This column could be of use for such people, those who are looking our for better prospects.
Use this space to publish your mini resume in the format given in the adjacent column. You may or may not reveal your identity. Send us these details and we will put it this column

Name: abc xyz
Age: ab
Feild of work: ajkfhkj, asjhas, asdjhkasd, aasdkj
Email : abc@xyz.com
Link to resume: www.xyz.com
IPC Classified
Your message here
You can reach thousands of people thorough our classified ads. Place your own classified text ads. or messages here Just for Rs 500 (USD 10) only

Contact the moderator for details
India Powder Coating
Vivek Soley
3, Lalaram Nagar, Indore, 452001 MP India
Phone 91 731 2492291
Mobile 9826297112
emails: viveksoley@hotmail.com , viveksoley@ipconweb.com , indiapowdercoating@yahoo.com
Wanted
Distributors / Freelancers / Engineers for sales and services of Mitsuba Products throughout India.

Contact
Mitsuba Systems (India) Pvt Ltd,
34/H, Laxmi Indl Estate,
New Link Road, Andheri (W),
Mumbai – 400 053.
Tel : 022-2631 8633 /2633 4735/66924151/66924154
Fax-022-66924154
Email : mitsuba@vsnl.com



Infomercial from
Statfield Equipments Pvt. Ltd.

Automation with Statfield


Automation of powder coating becomes easy with Statfield

In today's industrial fast moving world speedy production and accuracy in quality plays vital role. To cope up with these requirements automation of plant is the option one can think of.

Statfield introduces its automatic powder coating equipment "RECIPROCATOR" which has qualities to withstand all these expectations. Reciprocator moves up and down and coat article completely. It works continuously and results into faster and higher production. You can increase the number of guns to be mounted on reciprocator for speedy production. It gives uniform coating thickness & finish which eliminates human error to some extent. This reduces labor dependency and wastages of uneven coatings. By this, the coating cost is considerably saved and labor involvement is minimized.

The Reciprocator is operator friendly & consistent in performance. It is very easy to adjust stroke length as per articles length and operator's choice. The robust design coupled with Statfield's unique design makes this a trouble free and maintenance free machine.

Features:
Variable stroke length to suit article height.

Variable speed.

Programmable zone control.

Adjustment of stroke and speed of reciprocator to suit individual application

Smooth reversal at the end of stroke which ensures excellent coverage for article surface with poor access.

User friendly 15 key keyboard allows operator to perform all the required functions with his finger tips.

System can withstand wide variation in voltage.

Error message display facility is provided to detect the fault easily.

Hooters warning for every error.

Maintenance free lubricated gear box.

On your present conveyorised plant we can mount our reciprocator.



For further details contact:
Statfield Equipments Pvt. Ltd.
H.O & Works :- 1073 / 1,2,3 Mutha Road, Pirangoot, pune - 412 111 Tel No. 020-2292 2180/1/2 Fax No. - 020-6652 4695
Mailing Address :- 9/10, Laxman Villa, Near Jog Hospital, Paud Road, Pune - 411 038 Tel No. 020-2543 1450 / 2544 7147 Fax No. - 020- 2543 2349
Email - marketing@statfieldequipments.com
www.intechfinishing.com



VISIT

During his visit to Indore, Gopinath Murthy, General Manager Hexagon Technologies India, visited our office. He introduced us to the ITW GEMA Optiflex machine which has a unique DVC (Digital Valve Control) feature. The patented DVC technology guarantees a highly precise output and reproducible coating results and very high transfer efficiency. Upto 20 coating programs can be stored in the control Unit. The ROI ( return on investment ) is much faster as the DVC, and 100kv charging ensures powder saving . Until now the it has been a general perception that imported machines are much too expensive than their Indian equivalents. This new generation manual coating equipment is different form the existing models. The price differ
ence is not huge. The result of this can be seen as a very high sales growth since its launch two years ago.

Gopinath appreciated the role of our website in the powder coating. "It has created a common platform for the powder coating community" he said, and has assured regular contribution of academic value to our website.

Hexagon technologies is the authorised distributor for ITW gema Electrostatic Powder Coating Equipment in India Since 2000.




Nordson Debuts Generation II Dense-Phase Powder Coating Technology for Prodigy Coating Systems


The new Prodigy(R) Generation II spray system from Nordson significantly raises the bar for dense-phase powder coating performance and color-change speed originally set by the company's first Prodigy HDLV technology. It also sets a new standard for speed of application and ease-of-use, making the painter's job even easier.

Dense phase powder transport and application technology, for which Nordson has trademarked the acronym HDLV, is a revolutionary new method of delivering powder from the storage/conditioning device such as a conventional fluidized hopper, or locally fluidized vibratory box feeder, to a manual or automatic spray gun, using "High-Density" powder flow and "Low-Velocity" conveyance air.

In a bulk powder transfer and gun pump applications, conveyance
air is dramatically reduced, producing a very low-velocity, highly dense with powder, spray pattern from the gun, that provides a multitude of coating performance and operational benefits. Faster application capability, more complete coating coverage, and higher transfer efficiency to name just a few.

Several new Generation II enhancements to the original Prodigy gun, pump and associated components further improve ease-of-use and durability, for even more consistent and repeatable coating performance.

"Nordson HDLV brings more performance and value to any manual powder coating operation," says Robert Allsop, Marketing Manager, Nordson Industrial Coatings Systems. "The gun is nearly 20 percent lighter in weight, for incredible balance that's instantly recognized.

"And, when combined with its improved reach and maneuverability into tight space in, around and between parts, makes coating with Prodigy easier than ever."

Other gun enhancements include a totally re-designed barrel that accommodates a new, more durable, yet more flexible powder delivery hose. The hose now easily, and more securely, attaches at the very front of the gun, eliminating intermediate components and connections.

The new gun control cable is more rugged for longer service life, especially in demanding operations requiring more varied and frequent gun manipulation.

Optional, lightweight Prodigy Generation II lance extensions are now available in two lengths for coating operations requiring extended reach.

The Prodigy HDLV Generation II gun pump features include a new, longer- life pinch valve and more durable injection-molded pump body. Their combined geometries dramatically increase pinch valve wear life. The new pump body also ensures more secure assembly and provides additional ground contact for an extra measure of grounding integrity of the entire system.

Other gun pump enhancements are a new, longer-life check valve and more durable, metal filter disc.

Nordson now also offers a check valve upgrade kit to bring existing high- capacity transfer pumps up to the latest Prodigy HDLV design.

Kansai Nerolac targets premium segment
NEW DELHI: Kansai Nerolac Paints has tied up with fashion designer Manish Malhotra as a part of its strategy to establish itself as a premium brand. The company is targeting a 20-22% share in the premium category in three years.

"We are looking at premium positioning of the brand by offering latest range of designer finishes which help consumers to make a style statement," Kansai Nerolac general manager Venugopal C said. He said the premium-end category was the fastest growing segment in which the company enjoys 12-14% market share.

"Activities like tie-up with Walt Disney, launch of metallic finish paints and other designer finishes have helped more than double the market share from 6% to around 14%," he said. With the help of such initiatives, Kansai Nerolac was aiming at the lifestlye category.

"Continuing with the company's plan of offering innovative products and creations into the Indian paint market, Nerolac Colour Styles 07-08 closely relates moods to colours," Kansai Nerolac vice-president, marketing and sales (decorative), Anuj Jain said.

Asian Paints Q2 net profit up 39.81% at Rs 108.44 cr
MUMBAI: Asian Paints reported 39.81 per cent rise in net profit for quarter ended September at Rs 108.44 crore as compared with Rs 77.56 crore during the same quarter a year ago.

Total income increased 15.34 per cent to Rs 916.91 crore from Rs 794.95 crore in the corresponding quarter previous year.

Asian Paints Group's net profit was up 37.63 per cent at Rs 113.86 crore during September quarter from Rs 82.73 crore in the same quarter a year ago.

Total income climbed up 15.06 per cent to Rs 1159.62 crore from Rs 1007.86 crore. <more>

Setu due for special effects
- A GARLAND OF LIGHTS, A COAT OF COLOUR


A Rs 6-crore scheme has been drawn up to beautify Vidyasagar Setu.
After Howrah bridge, it's the turn of Vidyasagar Setu to don a new look. By December, the 15-year-old Setu will be illuminated and given a coat of paint as part of a Rs 6-crore scheme of the Hooghly River Bridge Commissioners (HRBC), the custodian of the structure.

"Philips has designed a lighting scheme for the bridge. We've asked the company to restrict the cost to Rs 5 crore. The annual electricity charges will be around Rs 30 lakh," said a state transport department official.

Paint manufacturers — including Asian Paints, Berger and Jenson & Nicholson — have been asked to provide samples. "These will be used by computer applicators to work out combinations that will suit the structure," said an HRBC official.

Transport secretary Sumantra Chowdhury said the beautification is likely to be complete by December. "In addition, the Park Street and Gariahat flyovers will be painted by the Puja. The HRBC will fund these projects," he added.

CPS Color
CPS Color, the leading supplier of advanced tinting systems, has enlarged its production facilities in India. After the expansion the total area is 4,720 sq m making the production area double the size. Also, the spare parts warehouse area has increased and is now triple the size it was before.

CPS Color's Indian manufacturing facility was set up in 1997 in Daman. The factory supplies COROBTM dispensing equipment and mixers to Europe, South America and North America in addition to the local markets. To be able to respond to the increasing demand resulting from the current and future market growth of the paint industry, CPS Color decided to increase its equipment production capacity of its Indian factory.

"Our goal is to grow faster than the market average. The enlargement of our Indian factory will make it possible to increase our global production capacity to fulfil the needs of the global markets but also to support our growth goal," said Arto Metsänen, CEO at CPS Color Group Oy in Finland.

Following the expansion, CPS Color India now has production lines defined for all individual models. Next to each production line there is space for the raw material stock, making production processes faster and smoother. "With this expansion we have been able to organise the production lines so that the raw materials will come in from one end and the ready made products will go out from the other end. As a result we can shorten our delivery times," explained Eero Hinkkanen, Managing Director at CPS Color India.

At the same time as production facilities were extended CPS Color could also improve employees' social facilities, safety systems and security of the plant

Sherwin-Williams
The paint industry in India is on the verge of entering into organised retailing. Nippon Paint of Japan will expand through exclusive stores numbering 120 in the next 12-18 months. It follows the company's recent entry into India's decorative paint market. In addition, Sherwin-Williams is planning to occupy exclusive shelf space in Reliance Retail outlets.

Meanwhile, the indigenous producers will continue to push ahead; Kansai Nerolac will set up 30-40 self-branded stores in the next 12-18 months and Asian Paints will also increase the number of its exclusive stores. (Source: India Business Insight, 10 October 2007)


DuPont Titanium Technologies Announces a Price Increase for Titanium Dioxide Products in Europe
WILMINGTON, Del., Oct. 8 /PRNewswire-FirstCall/ -- DuPont Titanium Technologies today announced a price increase for all DuPont titanium dioxide (TiO2) grades sold in Europe.

Effective Oct. 15, 2007, or as permitted by contract, prices for DuPont coatings, plastics, specialty, paper, and laminate titanium dioxide grades will increase 90 Euros per metric ton in Europe.

The modest increases implemented to date in 2007 still leave prices well below the levels required to offset both recent structural cost increases as well as ongoing cost increases. DuPont Titanium Technologies will continue to work to offset these increases in the cost structure with productivity initiatives, but such initiatives alone cannot be expected to offset the significant increases to costs.

"The rapidity of cost increases requires us to renegotiate contracts that provide for the delayed implementation of announced price increases," said Ian Edwards, global business director of DuPont Titanium Technologies. "At a time when the market for many of our purchased materials and services is extremely volatile, we must have the ability to respond to those cost pressures quickly if we are to remain competitive."<more>


CHINACOAT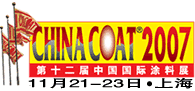 The CHINACOAT series of exhibition has become the industry's most prestigious and popular event. Every November, the pulse of the global coatings industry beats in Shanghai or Guangzhou.

CHINACOAT2007 will be held in the beautiful city of Shanghai. Over 656 companies from 32 countries and regions met 21,273 visitors when the show was held here in the year of 2005. The show and the concurrent conferences and seminars enable suppliers, producers and end-users of coatings to explore the need of a growing market, and discover insights to the tremendous opportunities and stimulating future that lie ahead.


Acquisitive PPG Industries buys paints, coatings group SigmaKalon from Bain Capital

Pittsburgh, USA, based PPG Industries Inc is buying SigmaKalon Group, the Uithoorn, Netherlands-based coatings producer, from private equity major Bain Capital for €2.2 billion ($3.1 billion), including debt.

The deal, which is subject to regulatory approvals, will help PPG expand its operations in Europe and Asia. In Europe, where SigmaKalon is the second-largest coatings company, PPG's sales will more than double with the acquisition.

SigmaKalon is the result of a 1999 merger of British decorative paints producer Kalon Group, a subsidiary of Total SA of France, and Sigma Coatings, a subsidiary of Belgian oil producer Petrofina. The company, which had revenues of about $2.76 billion in 2006, was acquired by Bain in 2003.

SigmaKalon's brands include Sigma Coatings, Johnstone's, Leyland, Primalex and Seigneurie. The company, which has a significant presence in Eastern Europe, recently acquired an architectural coatings firm in China<more>

Akzo Nobel Q3 results disappoint analysts
Dutch paint and chemical company Akzo Nobel reported on Tuesday that its third quarter profit, before interest and tax, was up 11% on the same period last year to €244m.
The result was below analysts' expectations of €255m, reports ANP news service.
The company's turnover in the third quarter was 2% higher at €2.6bn due largely to autonomous growth of 5%. <more>

Akzo Nobel announces details of proposed ICI acquisition
Akzo Nobel N.V. has published the agenda and accompanying Shareholders' Circular for next month's Extraordinary General Meeting of Shareholders. The Circular relating to the EGM -which is due to be held on November 5, 2007 - explains that, subject to the approval of the shareholders of Akzo Nobel and ICI, and certain other conditions precedent, completion of the ICI deal is currently expected to take place on January 2, 2008. Management estimates that the operating cost savings and other synergies relating to the ICI paints business will result in a total post-tax net present value benefit of approximately EUR 2.5 billion after implementation costs. Akzo Nobel intends to find a new owner for ICI's Specialty Starches activities and plans to retain ICI's Specialty Polymers business.

International Paint LLC Introduces Fireproofing Coating for Railcars
Houston, Texas-based International Paint LLC, a provider of high-performance coatings, has introduced Chartek 4901FRA, a new epoxy-based intumescent fireproofing technology specially designed for the rail industry.

Chartek 4901FRA is a high-performance, high-build, solvent-free epoxy intumescent engineered to protect steel, aluminum, and other substrates from hydrocarbon and cellulosic fires. The proprietary formulation offers good adhesion and durability properties for unparalleled impact and explosion resistance, jet fire protection, and corrosion control, the company says. <more>

New Powder Coating Protects Marine Vessel Hulls
Xiom Corp., Long Island, NY, has developed a new high-performance, environmentally safe, self-cleaning, marine vessel hull protective coating. The new "stay-clean," patent-pending powder coating for both steel and fiberglass boat bottoms is designed to reduce maintenance costs and fuel consumption caused by marine growth. The easy-to-apply polymer/ceramic-based coating contains no tributyl tin (TBT) or volatile organic compounds (VOCs), and it does not ablate or wear away. The coating contains a network of evenly dispersed active copper oxide and silver ions in a polymer matrix that is fully melted when applied with Xiom's proprietary thermal spray process. The polymer matrix serves to hold the copper oxide in place for years. Even if there should be some break or "tear" in the coating, a nylon-modified fuse-bond epoxy between the hull and the coating maintain the coating's integrity. The coating ablates at less than 1/10 the ablation rate of paints, while providing superior protection. <more>


Infobit
Ice Blast
What is Dry Ice Blast Cleaning?
CO2 Blasting Has Been Successfully Used In Many different Industrial Applications Cold Jet blasting is an effective and cost-effective way for many industries to maximize production capability and quality. Blasting is used to manage production residues, release agents and contaminants; it is successful in stripping paints, oils and biofilms; and is used for many general cleaning applications. This dry blasting process is non-abrasive, nonflammable and nonconductive. Cold Jet systems may therefore be used without damaging active electrical or mechanical parts or creating fire hazards.
Watch a quick animation demonstrating how dry ice blasting technology works.

Cold Jet blasting uses compressed air to accelerate frozen carbon dioxide (CO2) "dry ice" pellets to a high velocity. A compressed air supply of 80 PSI/50 scfm can be used in this process. Dry ice pellets can be made on-site or supplied. Pellets are made from food grade carbon dioxide that has been specifically approved by the FDA, the EPA and the USDA.

Carbon dioxide is a non-poisonous, liquefied gas, which is both inexpensive and easily stored at work sites.

How does CO2 Blasting Work?

CO2 blasting works because of three primary factors: pellet kinetic energy, thermal shock effect and thermal-kinetic effect. Cold Jet optimizes blast performance for each application by combining these forces and adjusting:

compressed air pressure
blast nozzle type (velocity distribution)
CO2 pellet size and density
pellet mass rate and flux density (particles per unit area per second)

Pellet Kinetic Energy

The Cold Jet process incorporates high velocity (supersonic) nozzles for surface preparation and coating removal applications. Since kinetic impact force is a product of the pellet mass and velocity over time, the Cold Jet delivery system achieves the greatest impact force possible from a solid CO2 pellet by propelling the pellets to the highest velocities attainable in the blasting industry.

Even at high impact velocities and direct head-on impact angles, the kinetic effect of solid CO2 pellets is minimal when compared to other media (grit, sand, PMB). This is due to the relative softness of a solid CO2, which is not as dense and hard, as other projectile media. Also, the pellet changes phase from a solid to a gas almost instantaneously upon impact, which effectively provides an almost nonexistent coefficient of restitution in the impact equation. Very little impact energy is transferred into the coating or substrate, so the Cold Jet blasting process is considered to be nonabrasive.

Thermal Shock Effect
Instantaneous sublimation (phase change from solid to gas) of CO2 pellet upon impact absorbs maximum heat from the very thin top layer of surface coating or contaminant. Maximum heat is absorbed due to latent heat of sublimation.

The very rapid transfer of heat into the pellet from the coating top layer creates an extremely large temperature differential between successive micro-layers within the coating. This sharp thermal gradient produces localized high shear stresses between the micro-layers. The shear stresses produced are also dependent upon the coating thermal conductivity and thermal coefficient of expansion / contraction, as well as the thermal mass of the underlying substrate. The high shear produced over a very brief expanse of time causes rapid micro-crack propagation between the layers leading to contamination and/or coating final bond failure at the surface of the substrate.

Thermal-Kinetic Effect
The combined impact energy dissipation and extremely rapid heat transfer between the pellet and the surface cause instantaneous sublimation of the solid CO2 into gas. The gas expands to nearly 800 times the volume of the pellet in a few milliseconds in what is effectively a "Micro-explosion" at the point of impact.

The "Micro-explosion," as the pellet changes to gas, is further enhanced for lifting thermally-fractured coating particles from the substrate. This is because of the pellet's lack of rebound energy, which tends to distribute its mass along the surface during the impact. The CO2 gas expands outward along the surface and its resulting "explosion shock front" effectively provides an area of high pressure focused between the surface and the thermally fractured coating particles. This results in a very efficient lifting force to carry the particles away from the surface.