Infomercial from AK Enterprises


EASY CLEAN









Compressed air coming from the compressor tank is contaminated with dirt, oil and moisture. To get these high filtering efficiency (up to 99.9%), we has specially designed a filter set, named "EASY CLEAN".

Ours "EASY CLEAN" consists of Pre-Filter, Silica Gel Dryer, Activated Carbon Filter and Coalescing Filter Connected in series to form a single unit. This set gives filtering efficiency upto 99.9% by removing moisture and the oil in vapour form.

All Aluminum (extruded) body construction, with nitrile seal and transparent shatter proof polycarbonate bowl make it a versatile light weight unit. Metal bowls are available for higher working pressure and temperature. Plated/powder coated bodies look aesthetically appealing. Mounting brackets for wall/panel mounting are provided.

SCOPE OF SUPPLY

1. Pre Filter with Regulator
2. Silica Gel Dryer – for removal of moisture
3. Activated Carbon Filter – for removal of oil
4. Coalescing Filter
5. Air blow gun
6. Pressure gauge
7. "T" connectors
8. PU Pipe

"EASY CLEAN"

Pre-Filter with Regulator
The double-action filtration cyclone separation and residual separation gives "clean air" with minimum pressure drop. The Filter element used is sintered bronze or plastic. The standard filter element is 25 microns. It also regulates the incoming pressure. Self-relieving features of the filter-regulator allows "Bleed-off" at excessive back pressure.

Silica Gel Dryer
The Filtered air after passing through pre filter still has traces of moisture in the vapour form. This moisture in the vapour form is absorbed by the Silica Gel Dryer. The air coming out of Silica Gel Dryer is 99.99% moisture free. The Silica Gel used is indicative type. Upon absorption of moisture the color of Silica Gel changes from blue to pink. When Saturated Silica Gel can be regenerated very easily by putting it near heat source such as light bulb or oven. When Silica Gel is fully regenerated, the colour changes from pink to blue. The Silica Gel can be regenerated again over long period.

Activated Carbon Filter
The dry filtered air coming out of Silica Gel Dryer still contains oil vapours. These oil vapours are absorbed by the activated Carbon Filter. The Activated Carbon filter absorbs oil vapours particles less than 5 pm. When activated carbon filter is fully saturated with the oil, oil patches will show up on surface of filter element. It is then time to replace the activated carbon filter element.

Coalescing filter
Coalescing filter is final and removes the finer dust particles which might be present in the compressed air. The standard filter element is 5 microns sintered bronze or plastic.


AIR CLEANING SYSTEM

The importance of quality compressed air for powder coating is known to all powder coaters. General filter does not purify air completely, leading to acute problems such as malfunctioning of equipment, lesser & unsmooth powder flow, orange peel effect etc. Moreover, air dryers do also require high level filters. In order to obtain high filtering efficiency (upto 99.9%), we have specially designed a filter set "EASY CLEAN". It consists of following:

a. Pre Filter cum Regulator (for removal of dust and fine particles)
b. Silica Gel Dryer (for removal of moisture)
c. Activated Carbon Filter (for removal of oil)
d. Coalescing Filter (for removal of finer dust particles and to fine the air)
e. All other accessories as required to connect one end to air compressor and another end to spray equipment

The above filters are connected in series to form a single unit. This set gives filtering efficiency up to 99.9% by removing moisture and the oil in vapour form. It comes as a comprehensive system and can be placed between any air compressor and powder spray equipment.

To know more about the above product and other products of our organization, please visit us at www.powdercoatingtplant.com , or contact us at

M/s. SHREE ELECTRO EQUIPMENTS
147A/1 Girish Ghosh Road
Ghusuri, Near Bajrangbali
Howrah – 711107, Kolkata, India
Tel : +91-33-26559543/32975401
Mobile : +91-9831060860/9331029106
Fax : +91-33-26550073
Email : shreecoat@satyam.net.in
Website: www.powdercoatingplant.com






Infomercial from Mitsuba Systems


Sampling Cup for Powder Coaters







Sampling Cup for Powder Coaters

Sampling is now easy and time efficient process with the new Mitsuba sampling cup.

Mitsuba sampling cup is available in capacity of 500 gms. It can be fit with Mitsuba as well as with any other brand of gun. With sampling cup you have flexibility to use your gun as sampling gun as well as full scale production system.

Today's powder coating set up needs flexible systems to deliver what the customer demands, when the customer demands it. Approval of coated samples form customer is crucial and an important step in any coating company. At present, a coater needs to clean entire hopper for coating even a small sample. And if the quantity is small, he needs to test the sample by putting powder pump directly in to the powder box. This method has high risk of irregular powder flow, which will result in rejection of the sample. Besides, this is time consuming and makes your shop floor dirty.

With Mitsuba sampling cup, coater can save time and money. To watch the video of the Sampling Cup in action please follow the link: http://www.youtube.com/watch?v=AMfjlLBHKnc

To know more about Mitsuba products please visit www.powdergun.com or contact us at:

Mitsuba Systems (India) Pvt Ltd,
34/H, Laxmi Indl Estate,
New Link Road,
Andheri (W),
Mumbai - 400 053.
Tel: 2631 8633 /66924151/2/3.
Fax-66924154
Email: mitsuba@vsnl.com
Website: www.powdergun.com






Infomercial from Vijay Enterprises Pvt. Ltd

Vijay Enterprises Pvt. Ltd.


Vijay Enterprises is a leading manufacture of powder coating materials (PCM) in India. VIJAY COAT today stands as a Reliable source of High Quality and Durable Powder Coating materials at very reasonable prices. Vijay's PCM find extensive application for industrial and other demanding applications. Vijay enterprises was incorporated in 1995 with a view to supplying quality PCMs to Indian industry. Vijay's manufacturing set up is equipped with best machines from M/s Buss AG Switzerland who are world's largest manufacturer of Powder Coating Machines. Vijay has now established itself and earned a name for its quality supplies and prompt delivery at very economic prices. VIJAY has multi-locational production facilities near Ahmedabad in western India and at Silvassa in the U T of Dadra & Nagar Haveli, 200 Kms off Mumbai. This makes it a competitive source of PCMs to all customers.

Vijay Enterprises Pvt. Ltd.
Admin. Office :
103, Gita Bhavan, 1st Floor, Opp. Vijay Transport,
Narol Char Rasta, AHMEDABAD 382 405.
GUJARAT. INDIA.
Telephone: +91-79-2532 9057, 25329374,Fax: +91-79-2535 9481
Email: jayesh@icenet.net
web: vijay-powdercoat.com
Job Opportunities
FREE
Often we receive emails with no contents, but a resume word document attachment.
This column could be of use for such people, those who are looking our for better prospects.
Use this space to publish your mini resume in the format given in the adjacent column. You may or may not reveal your identity. Send us these details and we will put it this column

Name: Bharat Bhushan
Date of Birth: 1-1-1954
Email : bbhushan2000@gmail.com
Link to resume: Bharat Bhushan
Name: MOHAMMED EL-SHERPENY
Date of Birth: 26 / 02 / 1983
Location Egypt
Current job: Geochemistry in Electrostatic Powder Coating.
Email : geochemistry_mohamed@yahoo.com
Link to resume: MOHAMMED EL-SHERPENY
Name: Ashish kumar Singh
Current job:Thin film deposition
Link to resume: Ashih kumar singh
Name: S.P.Pawde.
Current job:Powder Coating
Link to resume:S.P.Pawde.
IPC Classified
Your message here
You can reach thousands of people thorough our classified ads. Place your own classified text ads. or messages here Just for Rs 500 (USD 10) only

Contact the moderator for details
India Powder Coating
Vivek Soley
3, Lalaram Nagar, Indore, 452001 MP India
Phone 91 731 2492291
Mobile 9826297112
emails: viveksoley@hotmail.com , viveksoley@ipconweb.com , indiapowdercoating@yahoo.com
Dimetrics
Mfg. metal pretreatment chemicals

We are an ISO 9001:2000 certified company manufacturing pretreatment chemicals for powder coating of mild steel, aluminum, die casting material and galvanized sheets. We also manufacture paint/powder coating removers.

We also manufacture color anodizing chemicals. We have sufficient production capacity to give you prompt service.

Our Quality Assurance department is keeping a close check on all the incoming raw materials and outgoing finished products. We have efficient technical staff to give the best after sale service.

We devote good amount of efforts in R & D of new products and continuous improvement of existing products. Always there to give customers our best attention.

For further details contact:
Bhavesh Shah
Dimetrics
Gala No. 6, Stanley Compound, Kherani Road, Sakinaka, Mumbai-400 072
Telefax : 91-22-28509855 , Tel : 91-22-32941774
Email : dimetricschem@yahoo.co.in

World Paints Volume Market to Exceed 8.1 Billion Gallons, Value Market to Reach US$118.63 Billion by 2012, According to a New Report by Global Industry Analysts, Inc.

Paints are a group of emulsions that contain pigments suspended in liquid medium. Paints, which were primarily used for decorative and protective purposes, are being formulated to fulfill a range of applications. Paint composition ranges from environmentally friendly sound latex paints to chemically complex paints that find applications on assembly lines of automobile manufacturers.

San Jose, California (PRWEB) March 3, 2008 -- World Paints volume market is forecast to maintain a steady CAGR of 4.8% over the 2001-2010 period and exceed 8.1 billion gallons by 2010, while the value market, with a CAGR of 5.04% over the aforementioned period, is expected to reach US$118.8 billion by 2012. Asia-Pacific dominates the global Paints market, with a volume share estimated at 26.8% in 2007 and a value share estimated at 27.82% in that year. Asia-Pacific is also projected to emerge as the fastest growing Paints market in terms of volume sales, with a CAGR of 7% over 2003-2012.

With a volume share estimated at 37.50% in 2007, Architectural Paints dominate the global Paints market, while Industrial Paints are forecast to emerge as the fastest growing product category in terms of volume sales, with a CAGR of 6.97% over 2003-2012. <more>

Isamu Paint
Isamu Paint is turning its attention to other Asian countries in its strategy to grow its business of automotive refinish paints in emerging markets including Thailand and other neighbouring countries, in order to counteract stagnating Japanese demand. In addition, the Osaka-based company is considering the feasibility of establishing a production base in South Korea.

Isamu Paint has focused on the development of its overseas markets in recent years, collaborating with local manufacturers in Sri Lanka and Indonesia as well as opening its first overseas production facility in Thailand at the end of 2007, with local producer TOA Paint, for automotive refinish paints. (Source: Japan Chemical Week, 28 February 2008)


Lubricants for products to be powder coated
John Neale introduces a range of lubricants specifically for manufacturers who powder coat items after processes requiring liquid lubrication, that can avoid degreasing stages
For instance in the manufacture of aluminium doors, windows, and commercial and domestic furniture various lubricants maybe required for drilling, cutting and bending. It can be very advantageous to utilize a lubricant which allows components to proceed direct to powder coating without building in an additional degreasing process.

The avoidance of a degreasing operation both offers cost savings on cleaning plant, energy and chemicals as well as streamlining the process.

Lubricant VPN-60 is a completely vanishing minimal lubricant for cutting, routing and drilling.

Lubricant 104 is a minimal lubricant which is totally hazard-free, bio-degradable and has a high level of renewable ingredients.

Both these lubricants can allow for powder coating direct from the process requiring lubrication.

Powder coaters can investigate these lubricants as a way of moving away from TCE (Trike) degreasing and complying with the Solvent Emissions Directive, SED. <more>


Cloverdale Paint Inc
Cloverdale Paint Inc, based in British Columbia, Canada, has acquired Guertin Coatings of Manitoba, Canada. Guertin Coatings produces liquid and powder industrial coatings, resins, sealants and adhesives in a 7,000 m2 manufacturing facility at Winnipeg, Manitoba.
Cloverdale Paint operates manufacturing plants in Surrey, Portland, Winnipeg, Edmonton and Calgary both directly and through its subsidiaries; Fargo Paint Inc and Rodda Paint.
Cloverdale intends to operate Guertin as a separate entity with existing management and to maintain Guertin's products, distribution, brands and Winnipeg manufacturing facility. (Source: Winnipeg Free Press, 5 March 2008

Akzo Nobel CEO rules out large M&A in 2008; bolt-on acquisitions possible
AMSTERDAM (Thomson Financial) - Akzo Nobel NV chief executive officer Hans Wijers told broadcaster CNBC that the Dutch coatings and chemicals group is not contemplating any large acquisitions in 2008, but said smaller add-on acquisitions could emerge.

But the CEO also reiterated that Akzo Nobel (nasdaq: AKZOY - news - people ) will concentrate its energies in 2008 on integrating the recently-acquired Imperial Chemical Industries (ICI).

'We are not contemplating any deal of the magnitude of ICI. We are focusing on the ICI integration,' Wijers told CNBC in an interview.<more>

Laser Treatment for MDF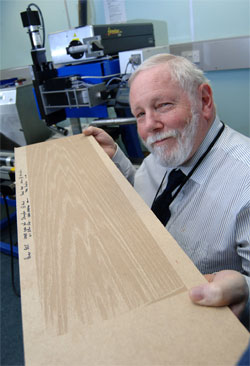 Researchers at WMG at the University of Warwick have devised a way of using a laser that transforms MDF giving it a surface finish that looks like some of the most expensive wood grains.

The "LaserCoat" research project in a collaborative research effort consisting of eight academic, research and commercial organisations and part-financed by the Technology Strategy Board.

University of Warwick WMG researcher Dr Ken Young said:

"MDF is a superb and highly versatile material. It's easy to work with and cheap. It is usually made from waste material so it is much kinder to the environment than using more real wood. But normally it looks rather dull in its raw state. Until now there has been no way to liven it up other than painting it."

"Using lasers to produce a wood grain in MDF could help bring a more natural quality into homes and businesses without the financial and environmental cost of having to use new wood."<more>

Jotun Unviels First Indian Facility.
Jotun has announced their first manufacturing facility in India. Located at Ranjangaon, near Pune. The plant has been set up with an investment of US$ 25 million and will have a capacity to produce up to 50 million litres of paint and 10,000 tonnes of powder coatings.<more>