Demand for U.S. Powder Coatings to Grow
June 29, 2009
CLEVELAND - U.S. powder coatings demand is projected to expand 3.5 percent annually to 445 million pounds in 2013, with a market value of $1.2 billion. Volume growth is expected to significantly outpace the gains of the 2003-2008 period as durable goods shipments are forecast to rebound from a weak 2008 base. Powder coatings will continue to achieve gains above the overall paint and coatings market average, taking share from competing products. However, advances in powder coatings market value will continue to be restrained by downward pricing pressure, as overcapacity in the industry persists and the manufacture of durable goods shifts to developing regions, particularly Asia. These and other trends are presented in Powder Coatings, a new study from The Freedonia Group Inc., a Cleveland-based industry research firm.


Thermoset powder coatings (e.g., epoxy, epoxy/polyester hybrid, polyurethane, polyester, acrylic and silicone) represent the vast majority of the overall powder coatings market, accounting for 91 percent of demand in 2008. Epoxy is the single largest product type in the thermoset segment, favored for its excellent corrosion and chemical resistance in interior applications. <more>

Frost & Sullivan Predicts Gradual Revival of China's Paint & Coatings Market
SHANGHAI, June 28 /PRNewswire/ -- The global economic turmoil has affected the Chinese economy, slowing its pace of development. However, the first half of 2009 has witnessed a gradual warming-up of China's economy with the housing market reviving, infrastructure constructions booming and increasing demand in the automotive market. All these driving forces indicate that China's paint and coatings market will be revived in the second half of 2009 and beyond.
Frost & Sullivan research shows that industry integration is the anticipated trend for the Chinese paint and coatings market. Leading multinational companies are expected to strengthen their competition by M&A, to improve distribution channels and to increase production capability in the short term. M&A activities between local companies are also forecasted to boom, as a way to improve competitiveness. The economic downturn accelerates the elimination of small companies and the expansion of leading companies.

Significant powder and energy reduction at Deutsche Mechatronics with WAGNER SuperCube

Reducing the power loss by 15 % plus a 30 % drop in the compressed air requirement - this is how the results look at Deutsche Mechatronics GmbH after introduction of the WAGNER SuperCube booth.. At the same time the quality of the coating was able to be considerably increased compared with the old plant, due to use of the latest technology. The company is more than happy with this result as it is now equipped to deal with the increasing quality demands by its customers and is saving resources.

Reducing the power loss by 15 % plus a 30 % drop in the compressed air requirement - this is how the results look at Deutsche Mechatronics GmbH after introduction of the WAGNER SuperCube booth.. At the same time the quality of the coating was able to be considerably increased compared with the old plant, due to use of the latest technology. The company is more than happy with this result as it is now equipped to deal with the increasing quality demands by its customers and is saving resources. <more>

China leads Asian coating biocides growth
According to the consulting firm Kusumgar, Nerlfi & Growney, coating biocide consumption in Asia totaled approximately 30 million pounds, as supplied, worth $174 million in 2008. Growth, led by China and India, is placed at nine percent per year through 2013

Berger Paints FY09 net dips to Rs 88 cr
Kolkata , June 20 Berger Paints India Ltd today said its net profit dipped to Rs 88.7 crore in 2008-09 from Rs 92 crore in the previous financial year.

A company spokesman said that sales for the year 2008-09 increased 12.5 per cent at Rs 1,514 crore from the previous year&aposs level of Rs 1,346 crore.

He said that fall in profits had been affected by high raw material prices in the first half and slowdown of the economy in the second half

New Colors Available for Solar Reflective Metal Roof Coatings
PPG Industries (NYSE: PPG) has published color cards for its Duranar ULTRA-Cool and Superl II ULTRA-Cool coatings.
Duranar ULTRA-Cool coatings for metal roofs feature a polyvinylidene fluoride (PVDF) coating system that offers higher solar reflectivity than competing products. The color card depicts 24 light-, medium- and dark-colored coatings, including six pearlescent tones. Many are registered with ENERGY STAR and the Cool Roof Rating Council (CRRC).

Superl II ULTRA-Cool silicone-polyester coatings are formulated with a proprietary resin technology and innovative formulation process that provide better chalk, fade, corrosion and mositure resistance than available with other silicone-polyester coatings. The new color card shows 20 color options, from jet black to polar white, that are available in a full range of gloss options.

Price Increase for VISIOMER® Methacrylate Monomers
Darmstadt, Germany, 2009-06-22
The Performance Polymers Business Unit of Evonik Industries, one of the world's leading suppliers of methacrylate chemicals, will raise the prices of its VISIOMER® Methacrylate Monomers. The new pricing structure applies to customers worldwide with exception of NAFTA. NAFTA pricing will be communicated separately by Evonik Cyro LLC, a 100 percent subsidiary of Evonik <more>

Metallic Pigments Market
The economic downturn has impacted the metallic pigments market due in large part to the ailing auto industry, a major consumer of the pigments.

The auto industry—a key market segment for metallic pigments—has been impacted particularly hard by the economic downturn.
As expected, due to the continued economic downturn, the metallic pigments market has experienced a slowdown in demand. "The overall usage of metallic pigments follows the downward trend of the global economic market in 2009," said Martha Davies, global product manager, effect pigments, Performance Pigments, Sun Chemical. "One of the key market segments—automotive coatings—has been impacted particularly hard. There are other markets, such as the DIY segment, which did not show the same type of market volatility, however, those segments are much smaller and therefore could not offset the overall downturn to the metallic pigments market. We anticipate that the market will begin to stabilize during the remainder of2009 turning into 2010." <more>

Amit Jain takes over as ICI India MD
Press Trust of India / New Delhi June 8, 2009, 14:12 IST
ICI India, a wholly-owned subsidiary of the Netherlands-based global paint and coating player Akzonobel, today announced the appointment of Amit Jain as the company's Managing Director.

"Amit Jain has taken over as the Managing Director of ICI India's paints division, in India and Sri Lanka," ICI India Ltd (Dulux Paints) said in a statement.

Jain was earlier serving as Executive Vice-President and Managing Director (India, China and South East Asia) in MTV Asia, the statement <more>

AkzoNobel Featured in Discovery Channel Series
16 June 2009

Adrenaline-charged program Industrial Junkie launches on the Discovery Channel tonight – a new series about major industry which will introduce viewers to AkzoNobel's Intersleek® 900 "go-faster" marine paint during its ten-episode debut season.

Each week, the 30-minute program will take a closer – and often extreme – look at some of the world's major industrial processes. One episode is being dedicated to the revolutionary antifouling supplied by AkzoNobel's International Paint brand. It will focus on why shipbuilders use Intersleek 900 to coat their gigantic ocean-going craft and highlight the sheer scale of the work involved.

The program featuring AkzoNobel is being screened on Dutch television on July 7 at 21.30 CET. Other countries will follow in due course. It means that hundreds of millions of homes in around 60 countries are about to find out how Intersleek 900 is applied to some of the world's biggest vessels and why it plays such a vital role in the unforgiving marine environment.

AkzoNobel was approached by the Discovery Channel last year, with filming for the episode focused on Intersleek 900 taking place over two days in October, when a camera crew visited one of the company's sites in the UK and a ship yard Germany. During the broadcast, presenter and self-confessed tech-head Jonny Smith will be seen working on a vessel nearly three times the size of the Titanic. "The difference between Industrial Junkie and other previous shows is that I actually help make/build the items in question," he explains. <more>

Remove Paint or Rust with Eastwood's New Innovative and Convenient Dual Tank Blaster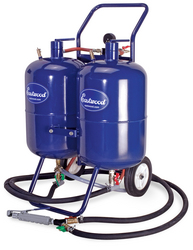 New to the abrasive blasting market, Eastwood's Dual Tank Blaster combines an abrasive blaster with a soda blaster, allowing quick and painless transitions between blasting with Bicarbonate soda and blasting with abrasive media for the removal of heavy rust, scale, powder coating or paint. Simply twist the nozzle's patent pending Mixing Valve to switch between media or choose a combination of both for a unique abrasive blend. Eastwood's Dual Tank Blaster works great for almost any repair, restoration, or maintenance project.

Pottstown, PA (PRWEB) June 8, 2009 -- Eastwood's New Dual Tank Blaster now combines the best of both worlds for abrasive blasting. The patent pending, trigger-mounted Mixing Valve allows the operator to switch between bicarbonate soda and any other abrasive media of choice for on-the-fly removal of heavy rust, scale, powder coating or paint, even on delicate glass or chrome surfaces. The mixing valve also allows an infinite mixing ratio between the media to suit any job or coating at hand.

Eastwood's New Dual Tank BlasterEastwood's Dual Tank Blaster now offers the professional and do-it-yourselfer the ability to use soda and abrasive media in one convenient unit, with patent pending controls to quickly switch between media or to create a blend of both. <more>

AkzoNobel opens 2009 Most Influential Women nominations
Source: Automotive Body Repair News

Email|Print|ShareDel.icio.usDiggRedditFacebook|Save|LicenseNORCROSS, Ga. - AkzoNobel Car Refinishes Americas has announces that it will begin the process for accepting nominations for the 2009 Most Influential Women (MIW) award. The recognition program, typically held during the first week of November in Las Vegas, will be staged in 2010.

"2009 has been an extraordinary business year," noted Tim Loden, Director of Marketing for AkzoNobel Car Refinishes Americas. Loden elaborates, "This year has required many difficult choices to be made. We recognize the positive social impact that the MIW program has brought to the collision repair industry. Therefore, we are choosing to sustain this commitment to the industry by recognizing the leaders that work to make it better. In addition, we will maintain our endowment to the I-CAR Education Foundation honoring the MIW recipients and providing needed financial assistance for those wishing to become a part of our industry." <more>

Rapid System To Measure Corrosion In Paints Developed

ScienceDaily (June 10, 2009) — Researchers at the Universitat Jaume I of Castelló (UJI), Spain, have patented a new test method that determines the anticorrosion protection that an organic coating offers in much less time than other conventional methods. This new system cuts anticorrosion experiments with paints from 20 days to 24 hours. This is a significant advance as it helps to cut losses due to corrosion which lead to an estimated worldwide loss of capital of some 300,000 million euros each year.

The patent will be issued through the spin-off firm Medco S.L. at Espaitec, UJI's Technology Park. The technology officer of this university partner firm, Maria José Gimeno, explains that "presently, these anticorrosion experiments with paints introduce the use of a metal plate which has been previously grazed in a saline mist chamber to subsequently verify its influence; in other words, to see whether the paint protects the metal plate or not". <more>


Fire in Mercury

Early morning on 16th June a large fire erupted at Mercury Specialty Resins in Gonde Industrial Area near Nasik, Maharashtra, India. Fortunately there was no loss of human life . The company manufactures raw material and additives for paints and powder coatings.

Workers who were in the manufacturing unit in the night shift could barely escape out of the factory in time. A short circuit probably triggered the fire. Highly inflammable petrochemicals burnt furiously and there was a lot of chaos during the incidence in the entire industrial area. The fire was so huge that it melted the iron sheets and roof structures. Flames erupted out from the damaged open roof

Fire engines from Mahindra and Mahindra and CIDCO were rushed to handle the situation.
Continues efforts by the workers and the fire fighters brought the situation under control after four hours.
Mercury Speciality Resins is one of the leading Corboxylated Saturated Polyester Resin manufacturer
<more>

PPG earns recognition from John Deere
PPG Industries' industrial coatings business has earned recognition as a "Partner-level" supplier for 2009 in the John Deere Achieving Excellence Program.The Partner-level status is Deere & Company's highest supplier rating. PPG was selected for the honor in recognition of its dedication to providing products and service of outstanding quality as well as its commitment to continuous improvement.PPG supplies electrocoat, liquid and powder coatings, as well as pretreatment chemicals to John Deere's operations in the U.S., Mexico, South America, Europe, India and China. Suppliers that participate in the Achieving Excellence program are evaluated annually in several key performance categories, including quality, cost management, delivery, technical support and wavelength, which is a measure of responsiveness. John Deere supply management created the program in 1991 to provide a supplier evaluation and feedback process that promotes continuous improvement.