Nerolac introduces Heat Guard Technology
Heat guard technology has a property to reduce the temperature of the interiors by up to 5C as compared to normal exterior cement paints.

Kansai Nerolac Paints Ltd, has done product improvement in its premium exterior emulsion Nerolac Excel Total. Nerolac has come with a new offer Heat Guard technology. It is specially designed for application in extreme tropical conditions of humidity and heat.

Heat guard technology has a property to reduce the temperature of the interiors by up to 5C as compared to normal exterior cement paints. So by using Excel total the consumers can get the interior temperature down and also save electricity over a period of time. Besides this the product now has lower VOC content as compared to other exterior paints. <more>

AkzoNobel Powder Coatings Launches Interpon A Range

AkzoNobel, the world's leading automotive powder paint supplier has launched Interpon A, which brings together the company's range of automotive powders into one clear and comprehensive global collection.

Interpon A's global standardization allows customers to quickly identify products from one of six ranges—underhood/body, interior trim, exterior trim, alloy wheels, powered wheels and body shell. Within each range, products are broken down into more specific categories which detail, for example, their performance capabilities, energy requirements, color range and approved manufacturers.

"This makes our range much more transparent," said Oscar Wezenbeek, AkzoNobel's global automotive director. "Customers can see at a glance the benefits of individual products, which car manufacturers use them and even how we can help them improve their carbon footprint." <more>

AkzoNobel to Add New Plant at Ningbo Site in China
AMSTERDAM, The Netherlands - AkzoNobel is planning to build an additional plant at its Ningbo multi-site for its Functional Chemicals business. The new EUR 17 million project, part of a total investment of EUR 275 million, will further expand the company's rapidly growing organic peroxides activities.

Production of chelates has already started at the location, while new ethylene amines and ethylene oxide factories are also due to come on stream later this year. The new unit is expected to be operational in late 2011.

Kansai Nerolac's net up 68.9 pc to Rs 33.9 cr in Q4
MUMBAI: Paints and varnish manufacturer Kansai Nerolac Paints Ltd today said net profit grew 68.92 per cent to Rs 33.92 crore in the quarter ended
March 31, 2010, compared to the corresponding period a year ago.

The board of directors has approved a bonus issue in the ratio of 1:1, Kansai Nerolac Paints said in a filing to the Bombay Stock Exchange.

Total income jumped to Rs 424.13 crore in the quarter under review from Rs 313.92 crore in the same period last year, the statement said.

For the year ended March 31, 2010, net profit rose to Rs 165.50 crore from Rs 98.59 crore in the last fiscal, it said.

Total income increased to Rs 1,707.41 crore in the year under review from Rs 1,375.63 crore in the previous year.

The board also recommended a dividend of Rs 15 per share on the paid-up equity capital of the company for the year 2009-10.

The board recommended the issuance of a bonus share for each one held by the existing shareholders, it said.

The record date for the issue of bonus shares would be determined after obtaining approval of the shareholders at the annual general meeting, it said. The AGM is scheduled to be held on June 17.

The Hosur unit of the company commenced production in the quarter under review.

The board has announced an additional outlay of Rs 230 crore towards expansion of Hosur facility. <more>


Berger Paints net rises 31 percent in Q4
Kolkata, May 15 (IANS) Berger Paints India posted profit after tax (PAT) of Rs.28.17 crore in the January-March quarter of 2009-10 against Rs.21.49 crore in the corresponding period a year ago, a company statement said Saturday.
The PAT grew by 31 percent.

During the quarter, net sales were at Rs.434.5 crore against Rs.350.7 crore in the corresponding period a year ago, representing a growth of 24 percent, the statement said. <more>

Jotun launches energy-saving, environmentally friendly 'Cool Shades Collection' for architectural powder coatings
Unique range uses heat reflective technology to reduce temperature of aluminium extrusions and other building components and thereby lower energy consumption costs


Jotun Powder Coatings, one of the world's leading producers and suppliers of powder coatings, has launched the 'Cool Shades Collection', a new collection of energy-saving and environmentally friendly powder coatings formulated to reduce the temperature of aluminium building components that are exposed to the sun, thereby effectively contributing to lowering buildings' energy consumption and cooling costs. The unique range is based on heat management pigment technology that reflect the infrared energy from sunlight and keeps coated surfaces much cooler, while still absorbing visible light energy to allow colours to maintain their vibrancy.

The 'Cool Shades Collection' offers a wide range of colours to match both modern and traditional architecture, and is an ideal application for window frames, curtain walls, shutters, louvers, and wall panels. Furthermore, the new collection is available in industry-leading high performance polyester powder coatings Corro-Coat PE-SDF Super Durable, as well as the standard architectural grade Corro-Coat PE-F Façade. <more>



AkzoNobel plans greenfield unit in South
Integration of ICI India with the company will be completed by June

The integration of ICI India with AkzoNobel, the Netherlands-based euro 13 billion paint company, will be completed by June. AkzoNobel plans to double its capacity in the next five years. As part of the expansion plans, it proposes to set up a greenfield project in South India with an investment of Rs. 100 crore.

The Managing Director (Decorative Paints India and South Asia) of ICI India, Amit Jain, said the company had three manufacturing facilities — Thane in Maharastra, Punjab and Hyderabad in Andhra Pradesh — to manufacture decorative paints with a total installed capacity of around 70 million litres annually.

The fourth unit, with latest technology would be set up on 75 acres in the South. "The company has been looking for land both in Tamil Nadu and Karnataka. The new factory would be for the decorative segment," he added.

Imperial Chemical Industries (ICI) was a British chemical company and had become a subsidiary of AkzoNobel in 2008. Mr. Jain said the company was keen to improve the distribution channels.

It was looking at expanding its point of presence.

Mr. Jain said the company's market share was around 11 per cent of the industry (decorative segment alone) which was estimated at Rs. 10,000 crore <more>

Court rules 'Dulux' has not mislead the market Thursday,
The Commercial High Court of Colombo recently ruled that Akzo Nobel Paints Lanka which produces 'Dulux' was not on the wrong advertising campaign when it announced that it was the only brand which conforms to international safety standards for lead over the media.

Commercial High Court Judge High Court judge P. R. Walgama made this order sequel to a civil suit filed by Macksons Paints Lanka (Private) Limited.

In its plaint the plaintiff Macksons had sought an order preventing the defendant Aszo Nobel paint Lanka holding out that its paint brand Dulux was the only brand which confirms to the said international safety standards for lead according to a study conducted by IPEN and Toxics Link.

In its action Macksons Paint Lanka (Private) Limited of Cross Street, Colombo 11 also had sought an order preventing Akzo Nobel Paint from carrying out any press conference and advertising campaign in the media. Macksons Paint Lanka had further claimed that it professes in the business of manufacturing, marketing, retailing and exporting paints and had emerged as a leading paint manufacturer in Sri Lanka. "It is ISO certified and its quality controls are in conformity with ISO 9001;2000 Quality Management System. At present there is no limit set in Sri Lanka indicating the levels of lead that could be allowed in paint formulation by the government regulatory bodies inter alia including the Sri Lankan Standards Institutions (SLIS),". <more>

Dow announces major investments in China
Dow Coating Materials, a global business unit of The Dow Chemical Company, has announced a major investment in its Chinese manufacturing footprint — a new $17 million dollar emulsion plant located at the company's Zhangjiagang site in the eastern Chinese province of Jiangsu.
The new plant comes on the heels of significant market growth in the greater Shanghai region, as Dow Coating Materials continues its practice of inventing, manufacturing and launching products specifically for the needs of the Chinese coatings market. The facility will also supply products for Dow's Adhesives and Functional Polymers business as well as the Building and Construction Business Unit.

Construction of the new plant, one of two Dow emulsions plants in the greater Shanghai area, is expected to begin in the fourth quarter of 2010, with an expected start-up date sometime in late 2011. The area, also home to one of Dow's largest research and development facilities, has long held strategic importance for the Dow Coating Materials business. According to Bruce Hoechner, Vice President, Regional Director, Dow Advanced Materials, Asia Pacific, the expansion is just one piece of Dow Coating Materials' broader long-term strategy for greater China.
Hoechner sees the new emulsions site as just one of many long-term investments in the greater China market. "East China remains one of the most dynamic and fastest growing regions in the already expanding Chinese coatings market. This emulsions plant reinforces our commitment to stay close to our customers and developing products that meet their needs and the changing needs of the Chinese consumer <more>

Stäubli Robotics Announces the New TXPAINT 250 Painting Robots
Stäubli Robotics manufacturers of innovative and technologically advanced industrial and cleanroom robots, Announces the introduction of a long reach painting robot; the TX250.The
fast,slender TXPaint 250 robot is the next generation of long reach high- performance painting robots featuring a rigid structure, impressive speed of 1.5 meters/sec, and a maximum reach of about 2.5 meters.

With a fully enclosed structure and compact footprint, it features a slender arm with a maximum load capacity of 10 kg and is protected by an air overpressure system in the aluminum structure. The high levels of dynamic performance, together with the precision and repeatability of its trajectories, lead to savings in time and emissions. The new painting robot is equipped with a hollow wrist which ensures contamination risks are minimized.

This six axis painting robot is perfectly suited for all coating applications such as wet painting, electrostatic or powder coating. Additional features are the PaintiXEN application software which includes easy access to fluid delivery equipment, fast color and catalyst changes, simple cleaning and total control of all painting process parameters. Due to its high performance, the TXPaint 250 will be the first choice for a variety of applications in the metal processing, plastics and wood industries.<more>

I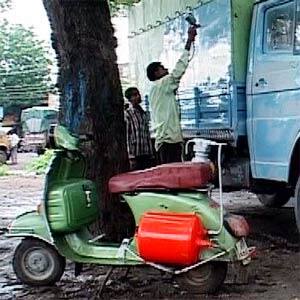 ndovationsPaint On Wheels (ITL C)

A scooter with a split personality. It probably won't shape-shift itself into a Harley Davidson, but it could earn its keep. Experience colour on wheels with Sheikh Jahangir's specially customised Bajaj Chetak. A transporter that can paint anything. And we mean anything. Right from a small chair to a huge cabinets and while we are at it, why not paint the entire building red? This 2 wheeler can also turn itself into a water pump, an atta maker or even a knife sharpner.

We'd recommend it for a screen test in the next Transformers movie.<more>


Glowing tiles
On reading news about the development of a light emitting tile, we decided to talk to Madhav Sawant,

Talking on phone Madhav was quiet excited to explain about his new Innovation the Light-emitting, energy-saving tiles. Sawant says these tiles, which can be used on roads, highways, bridges and buildings, save electricity on a massive scale.

The application of this new glowing paint can be numerous.

A while ago the light emmiting wal paper was used in mahindra towers, During the dark hours one can easily read a newspaper in the light of the paper. It would save energy .What it Does: Saves electricity by producing light from glow-in-the-dark paint " He designed a special machine to spray the glow paint. Sawant has just completed the research with the help of a Rs 5-lakh grant from the government and is looking for investors to commence production.


Fire in Paint a warehouse. One Operator died
On Friday evening there occured a huge fire in the warehouse of a paint and chemical Company, Duggal Paints and chemicals, in Indore, Madhya Pradesh One person was killed in the fire. There were a large number of chemical and paint barrels which exploded. It took four hours to bring the fire under control.
<more in Hindi>

Firefighters extinguish blaze, lose equipment
ShareMorris and Minooka firefighters extinguished a blaze at the Akzo Nobel plant, 8005 Tabler Road, about 2:30 p.m. Monday.

Although the fire was extinguished fairly quickly, both departments had to leave behind equipment that was contaminated.

Morris Fire Chief Robert Coleman said the fire was in the same building as one that occurred about three years ago, in May 2007.

Monday's fire was in a filter in an extractor on the second floor of a building at the plant.

There were sprinklers in the building and they had activated before firefighters arrived.

Coleman said firefighters had to get into the equipment to reach the filter, all of which was in the confines of the two-story building.<more>


Price Hikes
Akzo Nobel to up paint prices by 2-3 pct on inputs costs
(Reuters) - Decorative paints maker Akzo Nobel India Ltd plans to raise prices by 2-3 percent by May-end on increased input costs, a top official said on Friday.
"There has been hardening of input prices, particularly (of) titanium dioxide, which is the major input for paints," Amit Jain, Managing Director told reporters.

DSM to Increase Prices in North America
Effective June 1, DSM NeoResins+ will increase prices in North America for all its liquid resin<more>
OMNOVA Solutions Announces Price Hike
OMNOVA Solutions' Specialty Chemicals business has announced a price increase for all GenFlo®, GenCeal®, OMNABOND™, GenCryl® and GenCal® styrene butadiene-based emulsion polymers
Rio Tinto Minerals Announces Price Increase
Rio Tinto Minerals has announced a price increase for talc products from its North American operations
Bayer MaterialScience Raises Prices
Bayer MaterialScience AG is raising its selling prices for aliphatic isocyanates in the Europe, Middle East, Africa region
H.B. Fuller to Increase Prices in North America
H.B. Fuller Co. will implement a price increase on its water-based, hot-melt and reactive adhesives sold in North America
Bayer MaterialScience raises prices for polyurethane raw materials
Bayer MaterialScience AG is raising the selling prices for the product groups diphenylmethane diisocyanate (MDI), toluene diisocyanate (TDI) and polyether ...