Worried about increase in raw material prices: HM Bharuka, MD, Kansai Nerolac
In an interview with ET Now, HM Bharuka, MD, Kansai Nerolac, talks about the increase in raw material prices and its impact on their margins. Excerpts:

Can you tell us how much of an impact the rise in the raw material prices, particularly titanium dioxide, has on your margins and if you plan to increase prices going forward?

It is not only titanium dioxide. The entire raw material prices for the coating industry have been going up and since April, we have had increase of 9% in the total raw material prices. It is expected to rise further effective October and chances are it may rise again in January. So we are actually worried about the increase in raw material prices which is 9% till date. Coming on what we have been able to pass on, we have a 2 segment business. One is decorative, another is industrial. In case of decorative, we have had a price increase of 7% uptil now and we have been able to pass on slightly retaining and in case of industrial, we are still negotiating with our customers.

Your stock is at something like Rs 867. Have you thought of doing a split, it may become easier for people to trade it?

To be very frank, we have not thought about it. I agree that floating is very low because 70% holding is of the parent company and among the balance 30%, a lot of institutions are holding this stock. So floating is very low. Actually we have never thought of splitting on these issues, but that would be one of the agenda in future.

I wanted to go through some of the categories you have. Things like automotive coatings or perhaps high performance coatings are more of a fixed business I would assume. Where are you seeing the maximum demand coming from or the growth coming from? Is it automotive? Is it high performance powder coatings, speciality coatings?

In the industrial paints, yes, automotive is largest and then comes the powder coating and then comes the high performance and general industrial. General industrial is driven by infrastructure. So infrastructure is growing as of now. We are seeing a robust demand there, of more than 20%. Coming on auto, auto has been having a good run for almost last one year and we are seeing more than 30% growth in auto and we are expecting this to continue for at least coming 6 to 8 months. In fact, the growth could have been more, but some of our customers have run out of capacities. Powder coating is partly driven by auto because a lot of auto components use powder coating and general industrial. So powder coating demand is also more than 20%. So if you look at the entire industrial basket, demand is very high compared to decorative in the first 6 months <more>.

Kansai Nerolac targets 20% sales growth
Mumbai: India's second largest paints maker Kansai Nerolac Paints is looking at an 18-20% sales growth for the 2010-11 fiscal. It had recorded a similar growth in 2009-10 when the company clocked a turnover of Rs 1,970 crore.
The company, which holds a 12% market share in the decorative paints segment after Asian Paints, might go for a price hike post October. "There has been supply-side constraint. Till October 31, we will not take a price hike but if the price of the raw material (titanium dioxide) continues on an upward trend, we might look at hiking prices," said HM Bharuka, managing director, KNPL. It already hiked its price first by about 4.2% and then 2.5% during the June quarter and by 1% during the second quarter of FY11. Hence, the total price hike has been of around 7%.

Tha average price of titanium dioxide is $2,600 per tonne, which is expected to increase by $150 on October 2 this year, according to Bharuka.<more>

Paint firms on capacity drive; input costs pinch
India's paint makers are scrambling to add capacity to cater to rising demand from the decorative and industrial segments, but rising input costs present a challenge to growth in the coming quarters.
Increased demand for emulsions and rising offtake from the automobile sector have prompted a fresh round of capacity addition, officials said.

"The paints industry is seeing 15 percent-plus growth rates and there is very strong demand anticipated...There was some selective capacity addition last year, but this time it's industry-wide" said Anand Shah, analyst with Angel Broking Ltd.

India's top paints maker Asian Paints, which is investing 7.35 billion rupees for a 400,000 tonnes a year plant in Maharashtra, expects the first phase of the project to be commissioned by end-2012.

No. 2 paints maker Kansai Nerolac Paints also plans to invest 6 billion rupees to raise capacity by half in three years.

"The economy is expected to grow in double-digits and hence we expect a substantial rise in sales across the country...As of now, our capacity is 200,000 tonnes per year. Over next three years, we would expand at various locations," H.M.Bharuka, managing director, Kansai Nerolac, said.

In August, the company's board had approved investing about 680 million rupees for brown-field capacity expansion at one of its units.

Kolkata-based Berger Paints India also recently said it will invest 1.5 billion rupees for setting up a new manufacturing unit in Andhra Pradesh.<more>


Agitations will not hamper business: Rosaiah
Andhra Pradesh chief minister K Rosaiah on Tuesday said the state would provide logistics support for peaceful operations of the industry in the wake of Telangana agitations.
Asian Paints, which has a manufacturing unit at Patancheru near here, is keen on setting up another plant.
Its vice-chairman and managing director Ashwini Dhani said: "It would be a mega project and the biggest for Asian Paints. If not around Hyderabad, we are keen on setting up it in the north-eastern part of the state." The company, however, is yet to make an application to the state government, he said.

The Sudhir Jalan Group was exploring prospects of setting up a mega food processing unit in Chittoor district.<more>

"Andhra Pradesh is a central point in the country and we are looking at setting up a plant,.'' said Ashwin Dani, non-executive vice chairman of Asian Paints. ''We are observing the political and economic situation in the state and are in no hurry to finalise the decision." <more>


Berger Paints plans to set up water-based paint plant in AP: report
The direct employment potential will be 400 employees by the time
Berger Paints is planning to set up a water-based paint plant at Hindupur in Anantapur district of Andhra Pradesh at a cost of Rs.3bn, according to a report..

The report stated that the capacity of the plant will be 150,000 KL/MT per annum, which will be scaled up to more than 300,000 KL/MT per annum over a period of five years.

The direct employment potential will be 400 employees by the time, says report.<more>

Tata Motors, Mahindra and Honda Motorcycle recognize BASF as "Best supplier"
Mangalore/Münster. BASF Coatings in India has scooped three supplier awards from Tata Motors, Mahindra & Mahindra and Honda Motorcycle and Scooter India (HMSI).


"These successes are no coincidence. At BASF, one of our core strengths is our global network. We have an excellent team with the professional knowledge and experience to understand and meet the unique needs of each of our automotive customers," said Prasad Chandran, Chairman, BASF Companies in India & Head South Asia.

BASF received the "Best Supplier Award" for its superior performance in the paints category for the year 2009 from major motorcycle manufacturer HMSI. This is the third consecutive and fourth time in the past five years that BASF in India has earned the title for the Best Performance in Paints category.

Tata Motors Limited, India's largest automobile company, awarded BASF with the "Best Supplier Award" for its outstanding performance in the paints category for the year 2008-2009, considering parameters such as quality, cost, delivery, and development. Mahindra, leader in the utility vehicle (UV) segment in India, honored BASF with the "Best Performance Award" in Value Addition and Value Engineering category for the year 2009-2010.<more>

BASF merges legal entities in India
Board of BASF India Limited approves the Scheme of Merger of BASF Construction Chemicals (India) Private Limited, BASF Coatings (India) Limited and BASF Polyurethanes India Limited with the Company
Merger subject to approval of the Shareholders of the Company and the Bombay High Court
Share exchange ratio determined
Proposed merger will provide a broad-based portfolio

Mumbai, India – September 13, 2010 – The Board of Directors of BASF India Limited, today approved the Scheme of Merger between BASF Construction Chemicals (India) Private Limited, BASF Coatings (India) Limited, BASF Polyurethanes India Limited (BPIL) and BASF India Limited. The Scheme of Merger will now be subject to obtaining the requisite approvals of the regulatory authorities including the Shareholders of the Company and the Bombay High Court. The merger process is expected to be completed by January, 2011. <more>

Lanxess expects Indian coatings market to grow
Lanxess, a specialty chemicals firm and supplier to the paint and coatings industry, is encouraged by the buoyant growth and robust potential in the Indian coatings market. Overall, the company expects the paint and coatings industry in India to grow at the rate of 11-14 % in the next five years. Consumption of paint and coatings in India in the domestic sector is on the rise and is triggered by factors such as increased purchasing power of the people, boom in the real estate and automobile sectors, enhancement in lifestyles, and frequent special occasions and festivals in India. In the industrial segment, there is a steady growth in spending on infrastructure and urbanization, which has increased sales of industrial paint and coatings.
source Eurpean Coatings Newsletter

Nippon Paint Sets $54M Growth Plan for India
Nippon Paint, Asiaa s largest paint and coatings maker, is ratcheting up its presence in India, with two new plants and doubled capacity at a third planned within three years, the company has announced.<more>

Akzo Nobel NV: AkzoNobel makes strategic move into Chinese automotive market
September 8, 2010 AkzoNobel is to significantly boost its presence in the Chinese automotive market after agreeing to acquire Changzhou Prime Automotive Paint Co., Ltd. Financial details were not disclosed. Prime is one of China's largest vehicle refinish suppliers and a leader in the fast-growing mid-market segment. This sector is estimated to double in size within the next five years. Based in Jiangsu Province, the company develops, manufactures, markets and distributes automotive coatings, primarily for the refinish market. The agreement follows AkzoNobel CEO Hans Wijers' recent announcement at the World Expo 2010 in Shanghai that the company plans to double its revenue in China to $3 billion within five years. "This is an excellent deal involving an extremely well run business which gives us strong representation in one of China's most promising growth segments," said AkzoNobel's Board member responsible for Performance Coatings, Leif Darner. "Our global capability, combined with Prime's marketplace knowledge, products and technical know-how, creates an enviable strategic proposition and will allow us to significantly grow ahead of the market." Through its Car Refinishes business, AkzoNobel is mainly active in China's premium and commercial vehicle refinish sector, represented by its Sikkens, Lesonal and Miluz brands. The Prime agreement now opens up an opportunity to become the clear market leader in the attractive vehicle refinish mid-market segment. "I am very happy to have concluded such an exciting deal, which promises great things for the future," commented Prime Chairman and CEO, Mr Bao Yifan, who will retain a key role within the business. <more>

The Powder Coating Research Group Expands Laboratory in Move to Columbus, OH
COLUMBUS, OH, September 17, 2010 - The Powder Coating Research Group (PCRG), an independent product development and powder coating evaluation service, has expanded their laboratory and relocated to Columbus, OH. The new laboratory, located in downtown Columbus, boasts the capability to test novel advanced materials in market specific powder coating formulations.

"This move gives us expanded capability to develop and test ultra low temperature cure powder coatings including UV curable types," states PCR Group's founder and CEO Kevin Biller. "In addition we've received an excellent reception from the technology community in Central Ohio."

This is the first laboratory of its kind to provide comprehensive service in powder coating technology. Not only does PCR Group provide consulting and testing, but also laboratory sample preparation, evaluation and process scale-up. The PCR Group has genuine powder making capability including extrusion and grinding processing as well as application and curing equipment.

About The Powder Coating Research Group:
The Powder Coating Research Group is the leader in the development and licensing of advanced powder coating materials technology. Established in 2007, this coatings technology house focuses on providing cutting edge materials and process solutions for coatings users and producers.
PCR's services benefit raw material suppliers entering the powder coating market, powder coating manufacturers and powder users looking for an unbiased evaluation of their products. In addition, research groups in need of powder coating development can utilize PCR's 30 years of powder formulation experience to achieve their goals.

To find out more, please visit www.powdercoatingresearch.com

Contact Information:
Kevin Biller
15 W Cherry St., 3rd Floor
Columbus, OH 43215
614-354-1198

Strong Growth Forecast for Steel Pipe Coatings
The slumping steel pipe coating market of recent years is making a strong global comeback, with a volume increase of nearly 30% expected by 2013, a new market report forecasts.

The market is currently worth about 5 billion euros (about $6.4 billion US), according toThe Global Pipe Coating Market, 2010 Edition, by Applied Market Information Ltd., a UK-based global market research consultancy.

"The pipe coating industry was affected by the global economic crisis, but the magnitude, timing and duration of the effects varied broadly from region to region and even among countries in the same region," the report notes.

Paint waste ends in a master stroke
Australian car makers use almost 10 million litres of paint a year on plastic car parts, but only 30-40 per cent of it actually makes it on to the finished cars. The rest is wasted — a colossal loss that costs manufacturers about $100 million a year, according to data from the Australian paint industry.

It is also an environmental disaster. Each year, an average 2.5 million litres of slurry-like paint by-product goes to landfill, while solvents used for spray painting evaporate into the air, distributing volatile organic compounds and hydrocarbons into the atmosphere.

"It's actually quite massively wasteful," CSIRO scientist Voytek Gutowski says. "More than 50 per cent of the sprayed material is totally wasted, irreversibly."

The problem stems from plastic's lack of conductivity, so that airborne paint particles are not drawn to the plastic surface.

Dr Gutowski and his team of scientists at the CSIRO's Materials Science and Engineering Division in Highett have been working on a solution. The research team has developed a "zero-waste" paint application technology with the potential to transform manufacturing processes not only in the automotive industry but wherever plastics painting is required.

The Polish-born materials scientist has invented a surface coating technology that all but eradicates waste, by eliminating solvent emissions from the painting process.

Dr Gutowski's scientific achievements have earned him the 2010 Victoria Prize, a state government award of $50,000, for exceptional achievement in science.

The key to his pioneering work is the use of powder resins instead of conventional solvent and water-based paint. Through an electrostatic charge, the powder resin bonds with a plastic surface, such as a bumper bar or hubcap. The electro-conductive charge acts as a Velcro-like adhesive between the two surfaces.<more>

AkzoNobel to Become Primary Paint Supplier to Walmart
World's largest paint company to offer multiple paint brands, including Glidden™, in Walmart U.S. stores starting in 2011
STRONGSVILLE, Ohio, Sept. 1 /PRNewswire/ -- AkzoNobel today announced it has been selected by Walmart to be the primary paint supplier for the retailer's U.S. stores.

AkzoNobel will develop and manufacture a portfolio of interior and exterior paints for Walmart's more than 3,500 stores nationwide with the Glidden™ and ColorPlace® brands. This agreement builds on the existing relationship with Walmart for paints in Puerto Rico and Canada, and with Liquid Nails® adhesives in the United States.

"We're excited about the opportunity to build upon our relationship with Walmart to help them grow their paints business," said Erik C. M. Bouts, managing director of Akzo Nobel Paints LLC, the company's U.S. Decorative Paints business. "We feel we're in a unique position to deliver a high quality, affordable product to customers by leveraging both our strong presence here in the U.S. and the support of our global organization." <more>

Valspar Announces Price Increase for Powder Coatings
The Valspar Corporation (NYSE: VAL) has announced price increases for protective coatings products in the company's general industrial line serving the pipe and rebar markets. Pricing changes will take effect for all shipments on or after Oct. 15. The continued escalation in the price for epoxy, a key raw material used to manufacture fusion bonded epoxy coating products, necessitated the action.

"We continue to see escalating prices for key raw materials," said Brian Falline, group vice president, General Industrial. "We remained focused on delivering exceptional value to our customers and are committed to helping them achieve their business objectives." <more>

Jersey City man admits stealing paint formulas and trade secrets worth up to $20 million
A Jersey City man who was a chemist for a suburban Chicago paint company has pleaded guilty to stealing trade secrets valued at up to $20 million.

Federal prosecutors say 54-year-old David Yen Lee pleaded guilty Wednesday to stealing formulas and information from Valspar Corp., where he formerly worked as a technical director.

Prosecutors say Lee stole the information from Valspar as he was preparing to work for a competitor in China.

Lee formerly lived in Arlington Heights, Ill.

Federal officials say he stole secret formulas for paints and coatings from Valspar's offices in nearby Wheeling.

Lee is to be sentenced Nov. 23.<more>

Qualicoat, AAF's powder coated products'quality assurance.
Qualicoat is Australian Aluminium Finishing's quality assurance on the company's powder coated products. Qualicoat is a licensing and audit system applicable to the entire coating process to International standards and to Australian Standard AS3175.

Operating for over 20 years and adopted in 29 countries, the International Qualicoat System verifies the entire powder coating process, from powder manufacture to application.

Administered in Australia by the Australasian Institute of Surface Finishing (AISF), Qualicoat employs NATA approved auditors to perform bi-annual random audits on processes, facilities and testing procedures. <more>


Coil coatings can halt leaks and corrosion

HVAC/R refrigeration coils are leaking at an alarming rate in industrial, commercial and residential applications. While the reasons are many, chemicals ranging from household cleaners to industrial process compounds are the main culprits that produce leaks and pitting corrosion on all types of coils.

Many HVAC manufacturers, distributors and contractors might not realize that corrosion caused hundreds of thousands of coil failures during the past decade. The source is typical environmental pollutants, which range from salt air, to household cleaning agents, pesticides, formaldehydes, building materials and even off-gassing of food. Each of these contamination sources can corrode coil tubing in a year or less, if the conditions are right (Figure 1).

For example, refrigeration coils in a South American fruit processing plant's banana room were continually failing. The chamber used ethylene gas to ripen the fruit. Gaseous byproducts from the catalytic gas generator combined with the moisture in the ripening area to form a weak acid that produced pinhole leaks in the coil tubing after a year or less.

Aside from fruit-processing plants, most coastal area HVAC equipment is bombarded with corrosion caused by ocean salt

Types of coil corrosion
The most common forms of coil corrosion are pitting and formicary corrosion. Both can occur in as little as a few weeks after installation. More typically, corrosion begins appearing within a one-to-four-year period. The ability to distinguish pitting from formicary corrosion might help detect and eliminate the cause.

Pitting corrosion (Figure 3) is typically caused by the presence of chlorides or fluorides. Chlorides are found in numerous items such as snow-melting crystals, toilet bowl/tile cleaners, dishwasher detergents, fabric softeners, vinyl fabrics, carpeting and paint strippers. Fluorides are used in municipal water treatment. Pitting usually is visible on the exterior of a copper tube, visible to the naked eye. It's caused by aggressive attack by chloride/fluoride ions that condensate carries to the metal surface. The cations attack the oxide film the metal uses to protect itself, essentially forming a corrosion-driven battery that consumes the copper. Once pits form in the copper tube, they progress through the tube wall forming a pinhole that leaks refrigerant.<more>

Nanocoat for restoring historic paintings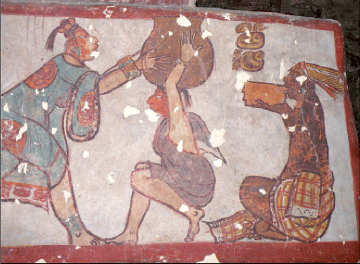 New inorganic nanoparticles that simultaneously restore and preserve ancient artworks have been developed by researchers in Italy. Many types of cultural heritage could be treated using this method, without causing further damage over time unlike some currently used polymer coatings, they say.

Preservation and restoration of artwork is important, as paintings such as frescos give us important glimpses into history. A standard method used by conservationists for protecting frescos is to apply an acrylic polymer coating, but such coatings can turn yellow, giving a plastic appearance and damaging the artwork in the long term.

Piero Baglioni and colleagues at the University of Florence, have developed alkali metal hydroxide nanoparticles that can be applied to frescos and other pieces of art that not only provide a protective barrier against further damage, but can also help restore them to their former glory.

Talking to Chemistry World at the 3rd EuCheMS Chemistry Congress, in Nuremberg, Germany, Baglioni explains that most wall paintings and monuments are made out of limestone - a sedimentary rock composed largely of calcium carbonate. When damaged by water, 'calcium carbonate is chemically converted into calcium sulfate and during this reaction you lose the painting,' he says.<more>

Air Techniques Introduces Patented "Antimicrobial Coating" to the Dental Industry
MELVILLE, N.Y.--(EON: Enhanced Online News)--Air Techniques, Inc., a leading manufacturer of dental equipment for nearly five decades, introduces a Patented "Antimicrobial Coating" to its complete line of AirStar® Dental Compressors. Air Techniques was first to introduce Oil-Free Compressor Technology in the USA and the first and only dental company to currently use Membrane Dryer Technology. Continuing to lead the industry in innovation, Air Techniques' AirStar tanks are now lined with a patented antimicrobial coating to inhibit bacterial growth and ensure consistent dry, safe air -- protecting your patients' health.

"AirStar continues to lead the pack in performance, innovation and reliability, and today we are making it even better"

AirStar's main compressor tank is internally coated with antimicrobial material, inhibiting the growth and transmission of harmful bacteria. This patented, silver-based powder coating uses environmentally sustainable silver ions that work 24/7 to protect against bacterial cell functions, by disrupting and prohibiting their growth and reproduction. Silver ions have proven effective at inhibiting the growth of many types of bacteria. Air Techniques utilizes the latest technology to create a uniform, total surface covering, ultra-thin internal lining, preserving the health of your patients and protecting your instruments and handheld equipment from oxidation.<more>

U.S. Probes Gulf Oil Fire Involving Paint Crew

Federal authorities are investigating the cause of a blaze that broke out Thursday (Sept. 2) while a 13-member painting and cleaning crew was working aboard an oil and natural-gas platform in the Gulf of Mexico.
U.S. Coast Guard helicopters planned this weekend to survey the site of Mariner Energy Inc.'s Vermilion Block 380 platform, about 100 miles off the Louisiana coast, to determine whether the platform was leaking oil. Coast Guard vessels and aircraft were also maintaining surveillance of the area.
Mariner said automated shutoff equipment had "safely turned off the flow of oil and gas from the platform's seven producing wells before the fire occurred and the crew evacuated," but some witnesses reported seeing a sheen on the water nearby.
In addition to the Coast Guard, the Bureau of Ocean Energy Management, Regulation and Enforcement (BOEM) (a division of the Interior Department), and Mariner Energy will conduct investigations into the incident.<more>


New ASTM International Standard Covers Testing for Drying Speed of Pavement Marking Paints at Elevated Relative Humidity
ASTM International Committee D01 on Paint and Related Coatings, Materials and Applications has approved a standard covering a test chamber used by transportation departments and similar agencies throughout the world to specify and test the dry speed of waterborne pavement marking paints at elevated relative humidity.

The new standard, ASTM D7539, Practice for Using a Test Chamber for Humidity Conditioning of Test Panels of Pavement Marking Paints, is under the jurisdiction of Subcommittee D01.44 on Traffic Coatings.

"Waterborne pavement marking paints need to dry quickly so that vehicles do not track wet paint on the road or that wet paint is not washed away if it rains shortly after application," says Donald Schall, R&D scientist, Dow Chemical Co., and a member of D01.44. "Therefore, being able to test such paints at elevated relative humidities is important for identifying and specifying faster drying waterborne pavement marking paints." Schall notes that such paints are used on roads, as well as in other applications, such as parking lots and airfields. <more>

Asian Paints: Brother's envy, online pride
Through its new campaign, Asian Paints wants to reach out, become the consumers' guide; whilst telling them that painting the home is now easy and convenient.
Asian Paints has launched a new ad campaign with the agenda of popularising its website,<more>