Kansai Nerolac Q1 net up 20% at Rs 72.98 crore
Company had reported net profit of Rs 60.93 crore in the April-June quarter of 2013-14 fiscal
Kansai Nerolac Paints today reported 19.77% increase in standalone net profit at Rs 72.98 crore for the first quarter ended June 30.

The company had reported net profit of Rs 60.93 crore in the April-June quarter of 2013-14 fiscal.

Net sales during Q1, 2014-15 were at Rs 921.07 crore, an increase of 16.61% as compared to Rs 789.81 crore in the year-ago period, the company said in a BSE filing.

Jenson & Nicholson (India) Ltd posts net profit of Rs. 6.66 crores in Q1
JENSON & NICHOLSON (INDIA) LTD. has reported financial results for the period ended June 30, 2014.

The company has reported net sales of Rs.11.99 crores during the period ended June 30, 2014 as compared to Rs.13.14 crores during the period ended June 30, 2013.

The company has posted net profit / (loss) of Rs.6.66 crores for the period ended June 30, 2014 as against Rs.(1.89) crores for the period ended June 30, 2013.<more>


Nordson Encore® PE Powder Spray Guns wins 2014 Ringier Technology Innovation Award

AMHERST, OH, May 09, 2014 – Nordson Corporation (NASDAQ: NDSN) recently received 2014 Ringier Technology Innovation Award, which is regarded as the most important award in China's coatings industry. The award was presented to the Nordson Encore PE powder spray guns for its excellent coating performance in PE coating application. This is the second time Nordson has won the prize.

The awards ceremony was held at the Shanghai Marriot Hotel Parkview on May 9, 2014, as the highlight of the 2014 China Coatings Summit. Coatings and Ink China – the leading market magazine published by Ringier Trade Media – announced the winners of the 2014 Ringier Technology Innovation Awards for the Coatings Industry. Twenty-five winning companies featured their innovative products and technologies across seven categories: Resins, Pigments, Additives, Machinery and Equipment, Green Coatings, Emulsions, and Technology. The Encore PE powder spray gun system was the only winner from coating equipment category.

"We sincerely appreciate the recognition for our system from the judging panel, and I also would like to express my sincere gratitude to the R&D team from Nordson for their continuous effort on industrial coating technology innovation," said Roy Dong, Nordson China Industrial Coating Systems Group general manager, who accepted the awards on behalf of Nordson. "As a leader in the coating industry, Nordson will continue our efforts to improve technology innovation and improvement, with the goal of providing the best coating solution to our customers."<more>

Reduce customs duty on titanium dioxide to 7.5%: Nadir Godrej
Customs duty on raw materials/feedstocks, which are short-supply in domestic market and are used in paints, polymers & plastics, and antimony trioxide industries, should be lowered


PPG is in the process of expanding its coatings business, having just bought Pittsburgh, US-based competitor Masterwork Paint Company for an undisclosed sum.

With the new government all set to take charge, CII National Committee on Chemicals has put forth its expectations from the new government for the benefit of the chemical industry. Given below are some of the recommendations for the chemical industry.

Paints industry
Manufacture of paint involves mixing of a wide variety of raw materials in various proportions. On an average raw materials account for 56% of the total expenditure in paint companies. Raw materials used can be broadly divided into three major groups - pigments (such as titanium dioxide, zinc oxide etc), solvent (such as mineral turpentine, ethylene glycol), and resins & adhesives

Titanium dioxide is the vital pigment used in paints. Pigments and preparations containing 80% or more of titanium dioxide are also used in paints. In the Budget 2012, customs duty on titanium dioxide under CTH 2823 00 10 was reduced from 10% to 7.5% to bring at par with other inputs vide sl. no. 150 of customs notification 12/2012. However, customs duty on this has been again increased to 10% with effect from May 8, 2013. The concessional customs duty of 7.5% needs to be restored to create differential in duty between paints and this vital input. Titanium dioxide also falls under CTH 3206 as pigments and preparations based on titanium dioxide. This is evident from antidumping duty customs notification 85/2009 on titanium dioxide where in both CTH 2823 and 3206 are mentioned. Therefore, customs duty on pigments and preparations of titanium dioxide under CTH 3206 11 also needs to be reduced from 10% to 7.5%.<more>

India's Getting a New Titanium Plant
Style: Commentary Category: Company News, Ferrous Metals, Macroeconomics, Public Policy
India's state-owned National Aluminum Co Ltd (NALCO) has signed a Memorandum of Understanding (MoU) with another public sector company, Indian Rare Earths Ltd (IREL), to jointly set up a titanium slag plant.

That could be good news for India's space program. Why? The project envisages adding value to Ilmenite, a titanium-iron oxide mineral, to produce the slag. Slag is an intermediate product for making titanium sponge and titanium pigments. Titanium sponge is a porous substance formed in the first stage of processing of the naturally available titanium. The latter is high strength but has low density properties, and is also corrosion-resistant. It's widely used in the manufacture of aircraft, among other things. Titanium-alloy components are also used to make missiles and satellite launch vehicles.

Incidentally, just a few weeks ago, The Indian Space Research Organization (ISRO) launched five foreign satellites, marking an important milestone in its space program.<more>

Axalta Partners with Huajia to Expand Capacity in China
Axalta Coating Systems, a leading global supplier of liquid and powder coatings, is pleased to announce the expansion of its powder production facility in China. New capacity will be added at the Qingpu manufacturing center of Axalta's powder coatings partner Huajia Chemical Co. Ltd. and will double production to meet the rapid growth of the east China powder coating market. Huajia is a subsidiary of Yongjia Chemical Co. Ltd.
The plant will add a new production workshop, increase the number of manufacturing lines, increase color matching capability, install special manufacturing equipment and is designed to ensure shorter delivery lead times.

Mike Cash, Senior Vice President and President of Axalta's global Industrial Coatings business said, "We are excited about our growing powder business and product offering in China and the ability of our added capacity to fulfill the demands of our ever growing customer base in east China. Through this expansion, together with our partner, Huajia, we will continue to expand our powder coating business, product offerings and manufacturing capabilities to build a leadership position in the powder coatings market."<more>

BASF Breaks Ground on Euro 90 Million R&D Expansion in China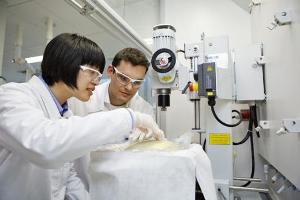 BASF, the world's leading chemical company, today broke ground on the second phase of its Innovation Campus Asia Pacific at its Pudong site in Shanghai, China.


The Euro 90 million expansion consists of an additional regional research and development (R&D) building and auxiliary facilities and it will be completed by the end of 2015.

"By 2020, around 25% of BASF's R&D employees will be located in Asia Pacific. The expansion reinforces BASF's commitment to globalizing its R&D activities and capturing growth opportunities in China and Asia Pacific," said Dr. Andreas Kreimeyer, member of the Board of Executive Directors of BASF SE and Research Executive Director.<more>

PPG to buy Mexican paints firm Comex
US coatings specialist PPG Industries has agreed to buy Mexican architectural and industrial coatings firm Comex for $2.3 billion (£1.3 billion). The deal will give PPG a manufacturing and distribution network for architectural paints across Mexico and Central America, where it currently has negligible presence.

Comex had previously agreed to sell its business to US paints giant Sherwin-Williams. Sherwin succeeded in buying out the US portion of Comex's manufacturing and distribution network, but the deal later stalled after Mexican regulators objected on competition grounds.<more>

Axalta and Yongjia Step Up Efforts to Increase Powder Coating Product Offerings in China to Satisfy Growing Domestic Demand
SHANGHAI--(Business Wire)--Axalta Coating Systems, a leading global supplier of liquid and powder coatings, is stepping up its efforts to expand its product offerings in China. Manufacturing capacity for new modified polypropylene powder products will be added to the Huangshan operations center of Axalta's powder coatings joint venture - Huajia Chemical Co. Ltd. This new high performance thermoplastics powder coating will meet the increased domestic demands for thermoplastic coatings in China. Huajia is a joint venture that Axalta Coating Systems shares with of Yongjia Chemical Co. Ltd.
The new modified polypropylene powder coatings have significantly higher corrosion resistance than can be achieved with other powder coatings. Due to increasing demand for this exceptionally durable coating, Axalta and Yongjia have made the decision to develop manufacturing capacity in China in order to meet the growing demand from local customers. By adding capability for cryogenic milling to the Huangshan factory, Axalta and Yongjia will make this important commitment to customers in China which can significantly shorten the lead time previously required to supply domestic customers.

"We are excited about the growth of our powder business and the opportunity to add new products within China," stated Mike Cash, Senior Vice President and President of Axalta's global industrial coatings business. "This is an important step forward in Axalta's long term commitment to the China market. Together with our partner, Yongjia Chemical Co. Ltd, we are continuing to bring new global products to the region, while also reinforcing our leadership position in the powder coatings<more> markets."

New nanoprocess will improve coatings
Sandia National Laboratories has come up with an inexpensive way to synthesize titanium-dioxide nanoparticles and is seeking partners who can demonstrate the process at industrial scale for everything from solar cells to light-emitting diodes.


Titanium-dioxide (TiO2) nanoparticles show great promise as fillers to tune the refractive index of anti-reflective coatings on signs and optical encapsulants for LEDs, solar cells and other optical devices. Optical encapsulants are coverings or coatings, usually made of silicone, that protect a device.

Industry largely has shunned TiO2 nanoparticles because they've been difficult and expensive to make, and current methods produce particles that are too large.

Sandia became interested in TiO2 for optical encapsulants because of its work on LED materials for solid-state lighting.

Current production methods for TiO2 often require high-temperature processing or costly surfactants – molecules that bind to something to make it soluble in another material, like dish soap does with fat.

Those methods produce less-than-ideal nanoparticles that are very expensive, can vary widely in size and show significant particle clumping called agglomeration.

Sandia's technique, on the other hand, uses readily available, low-cost materials and results in nanoparticles that are small, roughly uniform in size and don't clump.

"We wanted something that was low cost and scalable, and that made particles that were very small," said researcher Todd Monson, who along with principal investigator Dale Huber patented the process in mid-2011 as "High-yield synthesis of brookite TiO2 nanoparticles."<more>

New thin film passive fire protection coating protects up to 180 minutes
Jotun Australia has introduced one of the most efficient thin film passive fire protection coatings formulated to provide protection for up to 180 minutes in steel structures.

The new Steelmaster 1200WF is a highly efficient intumescent coating that protects infrastructure buildings against cellulosic fire. The latest addition to Jotun's Steelmaster range, Steelmaster 1200WF is developed to meet the challenging demands for passive fire protection (PFP). Steelmaster 1200WF completes Jotun's range of PFP products, enabling the company to strengthen its position within the thin film PFP market.

Steelmaster 1200WF fire protection coating is engineered to protect the structural steel in public buildings including airports, hotels, train stations, schools, stadiums and malls, with its thin-film consistency allowing more surface area to be covered with less paint, thus reducing application time and cost.

Jotun's Product Manager Barbara Logan explains that Steelmaster 1200WF represents a milestone for the company. A key objective during the product's development was to create a coating that would provide extended protection against fire, helping customers reduce both project costs and environmental impact.<more>

Asian Paints net up 23% at Rs 339 cr
Asian Paints, on a consolidated basis, has posted a 23 per cent rise in net profit at Rs 338.70 crore (Rs 275.2 crore) for the first quarter ended June 30, 2014.

Income from operations rose 18.3 per cent to Rs 3,362.20 crore from Rs 2,841.10 crore.

On Tuesday, the company scrip was trading at Rs 602.70 at 2.50 pm on the BSE.

Benjamin Moore sued for racial discrimination after paint company 'named brown hues after black employee'

Clinton Tucker worked for the company's website in New Jersey starting in 2011
He says he was fired for repeatedly complaining about their paint colors Clinton Brown and Tucker Chocolate

A black New Jersey man is suing his former employer Benjamin Moore for discrimination after he says the paint company named two brown paint tones after him.
Clinton Tucker's suit claims he was given the boot in March after he repeatedly complained about the colors Tucker Chocolate and Clinton Brown.
Tucker alleges one of the colors was a part of the company's Williamsburg Collection, a project he helped market.
A New Jersey man named Clinton Tucker is suing former employer Benjamin Moore, claiming discrimination regarding the paint company's colors "clinton brown" and "tucker chocolate."
A New Jersey man named Clinton Tucker is suing former employer Benjamin Moore, claiming discrimination regarding the paint company's colors "clinton brown" and "tucker chocolate."
Racist? A former black Benjamin Moore employee in New Jersey is suing the paint giant for racial discrimination after he was fired for complaining about two paint colors that he says were named after him
'Despite [Tucker's] repeated complaints and protestations to BM management about these appallingly racial color names, no action was ever taken by Benjamin Moore to change the names of these colors,' reads the suit.
The color remained on the Benjamin Moore website as of Sunday, where its description suggests the name has its origin in Colonial Williamsburg.<more>