Akzo's Cost-Cutting CEO Solicited for $7 Billion Deal
Akzo Nobel NV (AKZA), Europe's largest paintmaker, is being sounded out as a potential buyer of Axalta Coating Systems valued at $7 billion, according to people familiar with the matter.

Carlyle Group LP (CG:US), which bought car-coatings company Axalta from DuPont Co. (DD:US) for $4.9 billion in February 2013, is open to bids alongside a planned initial public offering, said the people, who asked not to be identified because the plan is private. Investment bankers are speaking with Amsterdam-based Akzo Nobel to pitch a deal, although the Dutch company hasn't indicated whether it will pursue Axalta, the people said.

The opportunity to expand Akzo Nobel's profitable coatings business comes at a time when Chief Executive Officer Ton Buechner is focused on cutting costs in a revamp he started 19 months ago. Axalta could fetch more than $7 billion and Akzo Nobel and U.S. rival Sherwin-Williams Co. (SHW:US) are seen as the best fits for the supplier of coatings to General Motors Co. (GM:US) and Daimler AG's Mercedes-Benz cars amid few possible trade buyers, the people said.<more>

Deepika Padukone: Asian Paints' new brand ambassador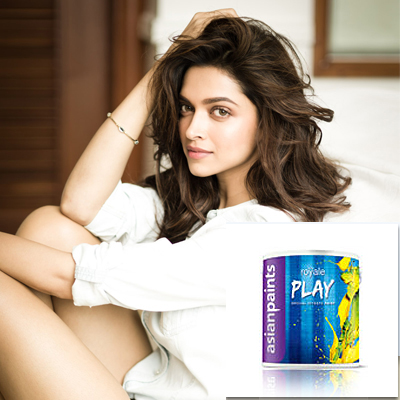 Asian Paints today said it has roped in Bollywood diva Deepika Padukone to endorse its brand, Royale Play.

The brand which represents the power of transformation, was introduced in 2004 and targeted at women who take an active role as a curator of home décor. Royale Play stands for being younger, dynamic, fun, colourful, "opening up possibilities", creativity and vibrancy.

"Deepika is today's modern youth style icon. I believe that she really embodies values that we wish to epitomise through our brand Royale Play," Asian Paints President for Sales, Marketing and Technology Amit Syngle said. <more>

Karnataka clears land sale to Asian Paints factory
BANGALORE, SEPTEMBER 26:
The Karnataka Cabinet on Friday approved transferring 55.16 acres land to the Karnataka Industries Areas Development Board (KIADB) to be allotted to Asian Paints Ltd.

TB Jayachandra, Law and Parliamentary Affairs Minister, briefing after the State Cabinet meeting, said: "The land identified for the company is in Kochanahalli, Tandavapura, Nanjangud taluk in Mysore district."

Earlier, the State High Level Clearance Committee (SHLCC) headed by Chief Minister Siddaramaiah had cleared Asian Paints Ltd ₹2,300'-crore proposal to set up 6-lakh-kilolitres-a-day (KLPA) capacity integrated paint and resins/emulsions manufacturing plant with 8 MW of solar power plants.

The company through this investment has promised the Karnataka Government to create employment for 900 persons. Total power consumption is estimated to be 12,000 kva and water usage is to the tune of 0.506 mgd (million gallons a day).<more>

BASF hikes pigments and dyes prices
These products are mainly used as raw materials in the coatings and paints, and in the printing and plastics industries

BASF has increased prices for numerous pigments and dyes by up to 15 percent worldwide with effect from September 1, 2014, or as contracts allow. The products affected are predominantly azo pigments, yellow and red high performance pigments, effect pigments, phthalocyanines and dyes. Price increases are necessary due to the current market situation, significantly higher raw materials costs and rising cost of environment, health and safety as well as maintenance.

The products affected are mainly used as raw materials in the coatings and paints as well as in the printing and plastics industries.<more>

CLARIANT DOUBLES CAPACITY FOR PIGMENTS AND PIGMENT PREPARATIONS IN ROHA, INDIA
Expansion represents an investment in production facilities
Increased production of pigments and pigment preparations will serve local and export markets
Clariant, a world leader in specialty chemicals, today announced the inauguration of an important new extension to its production facility in Roha, south-east of Mumbai, India. The expansion doubles its capacity at the facility for pigments and pigment preparations. This higher output will enable the company to increase its market coverage in India and the neighboring countries of Bangladesh and Sri Lanka, and to provide products better tailored to customer needs.

The increase in capacity has been made possible with the introduction of the very latest equipment for high-end pigment preparation. The improved plant, in which Clariant has invested CHF 3.2 million (INR 20 crores), forms part of a strategic program that the company has been carrying out in recent years to support customers in emerging markets with high quality pigments and pigment preparations that comply with local and international eco-labeling schemes.

Pigments and pigment preparations produced at the Roha plant are for a wide range of applications, including interior and exterior coatings, packaging, personal, home and fabric care products seed coatings, and dispersions for printing.<more>

Berger Paints India Ltd commences commercial production at Hindupur Factory
Berger Paints India Ltd has commenced the commercial production at the Hindupur factory of the Company situated at Plot.N.262, APIIC Growth Centre, Thumakunta Village, Hindupur Mandal, Anantapur District, Andhra Pradesh - 51521

Paint market to grow 20% annually in next two years
The industry will reach the level of Rs 62,000 cr in the next two years, says the Assocham study Indian Paint Industry: 2014

The Rs 40,600-crore Indian paint industry is likely to see a 20 per cent compounded annual growth rate until 2016, says a study by business chamber Assocham.

This is due to increasing demand from retail consumers, on rapid urbanisation, and development of rural markets. The industry will reach the level of Rs 62,000 crore in the next two years, it said. A rise in disposable income of the average middle class coupled with increasing investment on education, urbanisation, development of the rural market and various launches of many innovative products will be major drivers, it said. India is the second largest consumer of paint in Asia.

"The Indian paint industry has seen a gradual shift in the preferences of people from the traditional whitewash to higher quality paints like emulsions and enamel paints," said D S Rawat, secretary-general, Assocham <more>

Shalimar Paints shifts focus to the Decoratives Business
New chief executive Sameer Nagpal aims to focus India's oldest paint company in the decorative paints market, where margins are significantly higher than in the industrial segment

I
It is early days still but Gurmeet Singh Narula, a Shalimar Paints dealer since 1970, has a spring in his step. For the first time in 20 years, his paint deliveries are on time, the quality of paint has improved over the last five months, and customers are asking for the paint by its brand name, says Narula, who averages a crore in monthly sales. His revenues haven't gone up meaningfully, but he's confident that it's only a matter of time before they do. "In terms of product quality, you can now replace Shalimar with Asian Paints [market leader], and people won't know the difference," says the Delhi-based dealer.

Such high praise from one of the company's largest dealers is an endorsement for the country's oldest paint maker. Set up in 1902 in Calcutta, Shalimar was once India's largest paint company. "It was the Asian Paints of the 1950s and 1960s," says an analyst who tracks the sector. But its decline began in the early '90s. Its shift in focus from the decorative paints (used in homes) space to the industrial market (paint for bridges, factories, automobiles)—where margins are low and business lumpy—reduced Shalimar to a shadow of its former self.<more>

Shalimar Paints shifts focus to the Decoratives Business
New chief executive Sameer Nagpal aims to focus India's oldest paint company in the decorative paints market, where margins are significantly higher than in the industrial segment

New Viesmann powder coating 'improves hygiene of cold rooms'
Viessmann has developed a new cold room powder coating for all surfaces of elements both exterior and interior walls, floors and ceilings.

The antimicrobial coating – now available as standard on Viessmann's TECTO Standard and TECTO Special cold room ranges – is claimed to ensure the hygienic protective coating on Viessmann products is maintained for longer.

The company claims SmartProtec demonstrated advanced performance in product testing, combatting 20 per cent more microbial strains than the company's previous coating, SilverProtec, which contained antibacterial properties alone.

SmartProtec powder protection remains within the coating to better influence, for the lifetime of the cold room, the environment and improve the hygienic properties of product surfaces.<more>

Nordson Corp. acquires Netherlands-based Dima Group B.V.

WESTLAKE, Ohio—Nordson Corp. of Westlake has acquired Dima Group B.V. of the Netherlands for an undisclosed amount, the company announced on Tuesday, Sept. 2.

Dima makes "conformal coating, dispensing and surface mount technology equipment for the global electronics assembly market," Nordson said in a statement.

The acquisition is not material to the precision dispensing equipment company's results. Dima will be part of Nordson's Advanced Technology Systems segment, the firm said.

"Dima is an ideal strategic fit and a perfect complement to our Nordson Asymtek line of automated fluid dispensing equipment," said Michael F. Hilton, Nordson president and CEO, in a statement. "The company adds depth to our tiered product offering, strengthens multiple customer relationships, and adds to our overall application expertise."<more>

Nordson Corporation Provides 100 College Scholarships through Nordson BUILDS Program
-- Nordson Corporation NDSN, -0.77% is pleased to announce it has awarded a total of 100 college scholarships for the 2014-15 school year through its Nordson BUILDS Scholarship Program.

"The mission of Nordson BUILDS is to attract and develop a diverse, highly-skilled talent pool for careers in the manufacturing industry," said Amonica Davis, Nordson BUILDS Program Officer. "It was created to serve as an economic and workforce development engine for Nordson Corporation and the manufacturing industry as a whole. Ideally, Nordson BUILDS identifies a talent pool to fill the gaps of an aging workforce in manufacturing, introduces Nordson to academically motivated students pursuing technical-training programs and college degrees suitable for a career in manufacturing and Corporate America, and meets the advanced technical and educational demands of a global, manufacturing company that desires to be innovative and productive."<more>

Nippon Paint China paints new brand
Asia's leading paint manufacturer Nippon Paint China held their brand renewal conference at the Commune by the Great Wall hotel on September 3. With the theme of the conference being "More Than Paint," Nippon Paint China put forward their highly anticipated brand renewal plan.

Eric Chung, president of Nippon Paint China, stated that through the brand renewal plan, the company is committed to completing the transformation from being a coating production company to a coating service provider.<more>

Viessman adds superior hygienic coating to fridges
Viessmann Refrigeration has revealed its fridges and cold rooms will be antimicrobially coated as a standard to ensure the hygienic protective coating on Viessmann products is maintained for longer<more>
.